Hey Everyone!!!
When you need a break from the stresses of city life, a walk in a city-park paradise can do wonders. You can calm down and keep going if you go to some of Houston's best safe places.
Houston is a great place to find outdoor activities and places to play to let off steam. Whether you want a splash pad, a sports field, or something in between, it's easy to find the best parks in Houston where you can get some sun and have fun.
From a large park where the city zoo is located to a world-class skatepark, the eight parks below will make you forget you're in the fourth-largest city in the United States.
Because there's more to living in a big city than tall office buildings and concrete, so read on for our picks for the best parks in Houston, Texas.
Here's an overview and some highlights of why you shouldn't miss these 9 best parks in Houston.
If you enjoy our blogs, make sure to follow us on Facebook and Instagram.
---
9 Best Parks In Houston
Houston is a great place to find outdoor activities and places to play to let off steam. Whether you want a splash pad, a sports field, or something in between, it's easy to find the best parks in Houston where you can get some sun and have fun.
With our list of the best parks in Houston, you can cross some items off your bucket list.
1. Buffalo Bayou Park
Set on 160 acres that stretch from the bayou to downtown, Buffalo Bayou Park has something for everyone.
There are running and biking trails, a children's play area, amazing art sculptures like "Tolerance" by Jaume Plensa (seven silvery aluminum human figures that represent the seven continents), and The Dunlavy, a restaurant and event space. One of the nice parks in Houston, TX.
There are also places to rent canoes and kayaks, a skatepark, a two-acre dog park, and 18 acres of wildflowers and prairies where you can spread out and have a picnic.
---
2. Discovery Green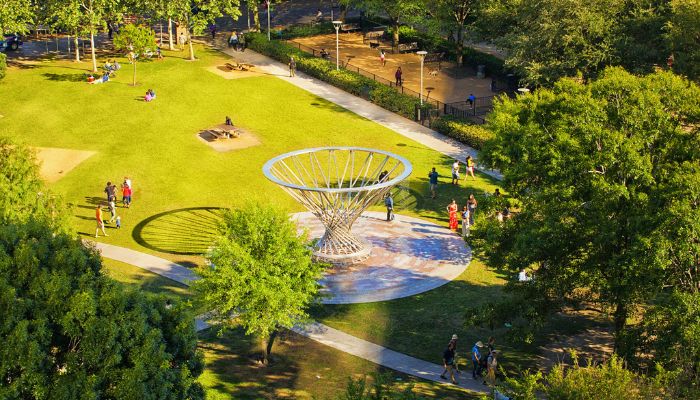 Discovery Green is a 12-acre park in downtown Houston that is across the street from the George R. Brown Convention Center. It has a variety of fun and interesting features, such as interactive water features, eye-catching public art, and free community programs like writing workshops and workout classes.
Even though the grounds are well-kept, a one-acre lake with kayaks and remote-controlled, battery-powered boats for rent is home to wild plants and animals. You can eat at either The Lake House, a fast-casual restaurant, or The Grove, a modern sit-down restaurant, and then watch a baseball game at the nearby Minute Maid Park.
---
3. Levy Park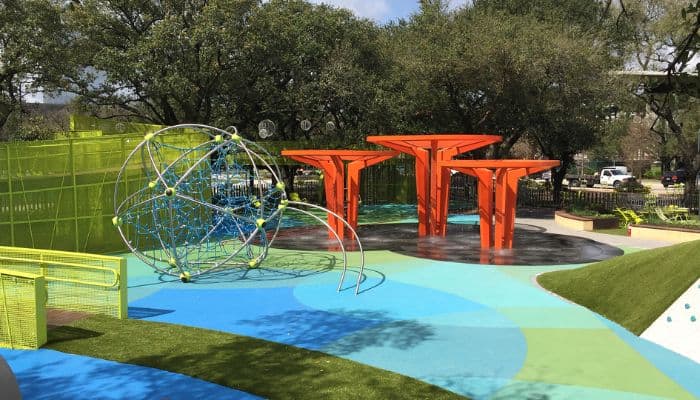 Levy Park is one of the newest urban parks in the city, but it is also one of the most popular. The Upper Kirby space makes good use of every inch of the park. The unique children's area isn't like most playgrounds. One of the cool parks in Houston, TX.
Instead of plastic slides and monkey bars, it has a giant stone slide and a spherical jungle gym. There are big grassy mounds and tunnels to crawl over and through. This makes it feel more natural than a metal playset.
But the play space is only a small part of the fun. The park also has an activity cart, a library, a dog run, a full calendar of events, food trucks that come and go throughout the day (and come back the next), and the best place to picnic in Houston.
---
4. Smither Park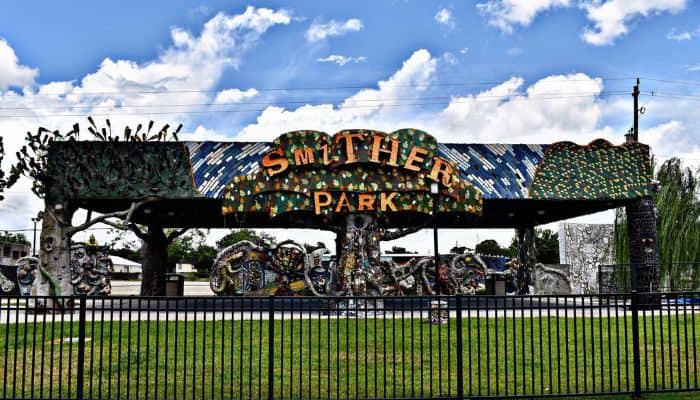 The Orange Show Center for Visionary Art and architect Dan Phillips worked together to make Smither Park, an art space for leisure activities in Houston's East End. Here you'll find works by more than 300 artists, many of whom are from Houston.
The whimsical half-acre green space has an amphitheater, a memory wall, a meditation area, a covered pavilion, swings, sculptures, and intricate mosaics made from broken ceramics, bottle caps, tiles, and sea shells. This park is the best place to picnic in Houston.
---
5. Memorial Park
Most urban parks are well-kept, but 75 percent of Memorial Park's 1,466 acres are not. This makes it different from most other urban parks.
There are more than 40 official park activities, such as a golf course, a public pool, croquet, tennis, and sports fields for softball, baseball, soccer, and flag football. There are more than 30 miles of hiking, mountain biking, and running trails in the forest.
There is also a very popular three-mile running loop. The Clay Family Eastern Glades in 2020, the park's first big project since 2015, was just opened. The 100-acre area has been changed to include picnic areas, native wetlands, savanna, pine-hardwood forests, and open green spaces.
---
6. Hermann Park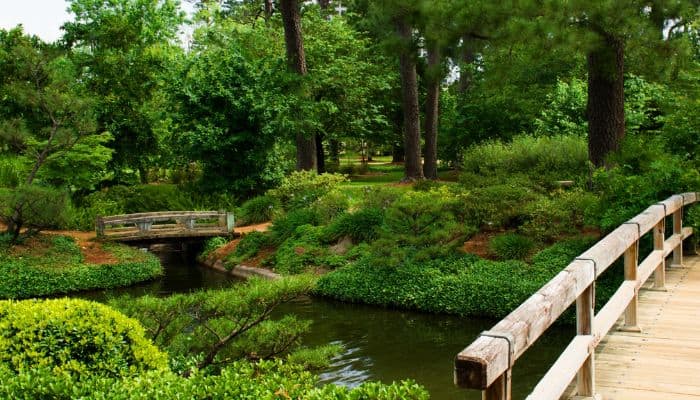 Hermann Park, which turned 100 in 2014, is full of life because six million people visit it every year. When they enter, they all walk past a big statue of Sam Houston. You can spend a whole day here. In the middle of the 445-acre park is the Houston Zoo.
The park also has the free Miller Outdoor Theatre, a Japanese Zen garden, an 18-hole golf course, a place to watch birds, and the beautiful McGovern Centennial Gardens. There is a lake with bass and catfish for people who like to fish.
---
7. Lee and Joe Jamail Skatepark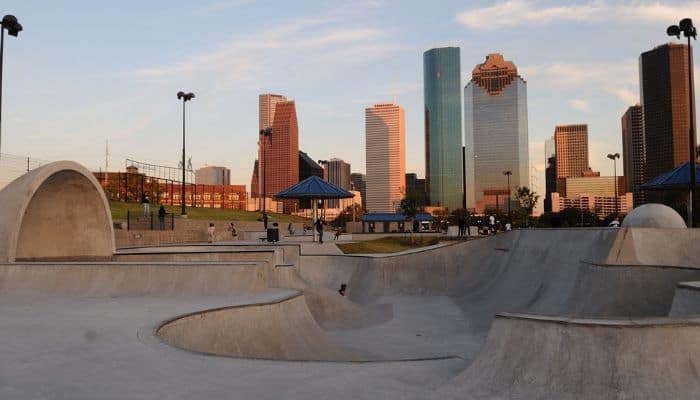 The Lee and Joe Jamail Skatepark is a 35,000-square-foot concrete building in Buffalo Bayou Park that looks out over downtown. It was made for skaters of all skill levels, and the high energy of the people who go there is contagious.
There are free events like skateboarding classes, teen competitions for beginners, and two bowls, one of which has a 22-foot cradle. Both local skaters and pros from all over the world come to these events. One of the cool parks in Houston.
---
8. George Bush Park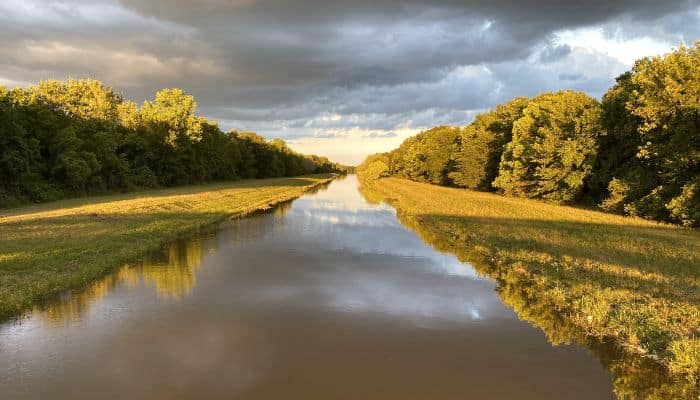 The huge George Bush Park is made up of 7,800 acres and has 11 miles of trails for walking and biking. There are three picnic pavilions, two Little League baseball fields, two soccer leagues, playgrounds, a huge outdoor shooting range, a dog park, and a field for flying model airplanes.
When you're out hiking, you can take a break on one of the benches that appear every so often and enjoy the views of the woods. One of the best parks in Houston for photos.
---
9. Donovan Park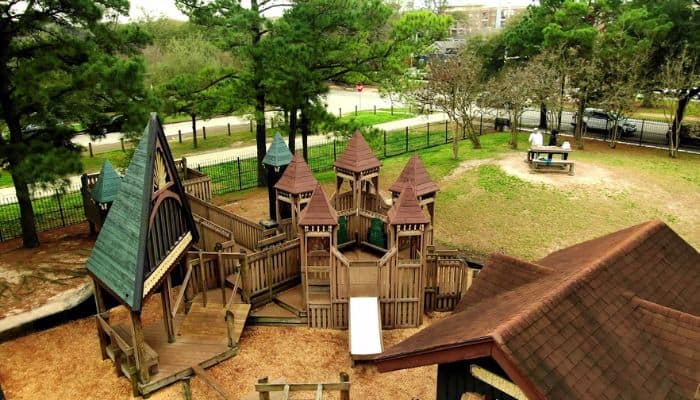 This park in the Heights neighborhood is one of the few in Houston that was built by the neighborhood itself. Families in the Heights worked together in the fall of 1996 to build the all-wooden playsets.
It only took five days, and since then, families in the area have loved getting together there. The adults can sit on benches and tables or in the shade of one of the tall trees while the kids play.
One of the best things about Donovan Park, besides all the fun things inside, is where it is. The park is on Heights Boulevard, near where two busy biking and running trails meet. Some of the best restaurants in the area are also within walking distance.
---
You Might Also Like
---
---
FAQs About 9 Parks In Houston, Texas
What is the most popular park in Houston?
Hermann Park is the best thing to see and do in Houston's Museum District, which is also called Museum Park. Some of the most popular places in the city, like the Houston Zoo and Miller Outdoor Theater, are in this area. There are also splash pads, a golf course, playgrounds, and a jogging trail. One of the best parks in Houston for photos.
What is Houston TX best known for?
Houston is known as the world capital of space exploration, air conditioning, the international energy industry, petroleum exploration, and the death penalty. 
Is Discovery Green water park open?
After being closed for about 15 months because of COVID-19 precautions, the Gateway Fountain at Discovery Green is now open. Parents might worry about cleanliness, which makes sense.
What is the best parks in Houston, TX for photos?
Which places provide the best parks in Houston for kids and families?
These are the best places for kid-friendly parks in Houston:
1. Buffalo Bayou Park
2. Smither Park
3. McGovern Centennial Gardens
4. Discovery Green
5. Gerald D. Hines Waterwall Park
---
Tell Us In the Comments About One Of Your Best Parks In Houston, TX
Also, don't forget to book your personalized holiday package with Tripononline. Let us make your vacation a romantic as well as a dreamy getaway.