Hey Peeps!!!
When you think of San Francisco, you probably think of cable cars, Alcatraz Island, and the Golden Gate Bridge. But the city's mild climate and hilly terrain make it a great place to go hiking (often with ocean or bay views).
When you look at the Bay Area as a whole, with its coastal cliffs, tall redwoods, and lush landscapes, there are even more amazing places to stay. The best part is that everything is just a short drive or walk from the city center, which makes it easy to go on a short day hike and find the best hikes in San Francisco.
There's something for everyone in these unassuming California hills, whether you're ready to climb Mount Diablo, which is 3,849 feet high, or just have time for a simple one-mile loop. These hiking trails in San Francisco and the Bay Area are easy to get to, have different levels of difficulty, and have beautiful views.
Here are some of our best urban experiences, as well as our favorite rest places in the nearby mountains and forests. Here are our picks for the best hikes in San Francisco and beyond, including once-in-a-lifetime summits, easy-to-reach seaside views, and everything in between.
If you enjoy our blogs, make sure to follow us on Facebook and Instagram. Scroll down to learn more about the top 9 best hikes in San Francisco.
---
9 Best Hikes In San Francisco
San Francisco's many well-known charms include its quirky neighborhoods, rich cultural history, and thriving food scene. But a hike is needed to really get to know the Bay Area. There are rocky Pacific promontories, peaceful redwood forests, wildlife-filled wetlands, and many other unique landscapes all within a short drive of the city.
You can get to the heart of the natural beauty of the area on these nine trails that are only a short drive from San Francisco. Here are the best hikes in San Francisco.
Allow  Tripononline to assist you when your options are limited. We'll point you in the right direction for the best hikes in San Francisco. We hope that our list of the 9 best hikes in San Francisco, helps you plan a fantastic trip to the city.
1. Lands End Trail
San Francisco has a sense of nature's vastness that is hard to find in other cities. Lands End is in the far northwest corner of San Francisco. It has miles of trails that go along the rough Pacific coast. On sunny days, you can see all the way out to sea and north to the hills of Marin.
The view of the Golden Gate Bridge is good enough for a postcard. Foggy days that happen more often are still beautiful because they cover groves of cypress and eucalyptus trees in a moody fine mist.
Start by going down the stairs to the Sutro Baths, which are the ruins of a 19th-century bathhouse that was fed by the ocean. Then go back up the stairs and wind your way north. Want to spend a whole day in this part of town? You Can see one of the best views of San Francisco from here.
Leave the Lands End trails on the east side, walk through the fancy Seacliff neighborhood, and head north to the many trails of the Presidio, which eventually lead all the way to the Golden Gate.
---
2. Devil's Slide Trail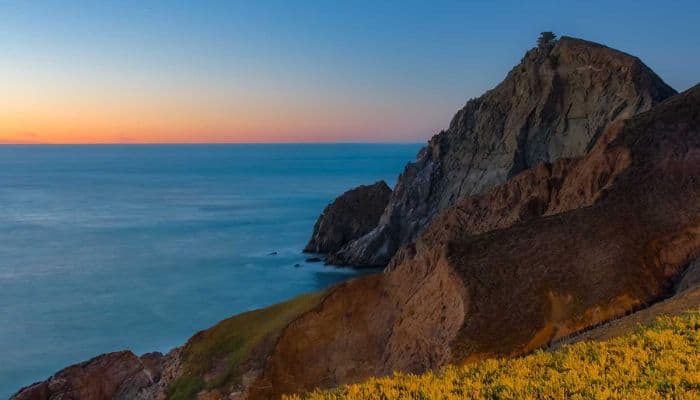 Even though it has a scary name, the 1.3-mile Devil's Slide Trail winds along a beautiful part of the coast south of San Francisco. It used to be Highway 1. One of the best hiking places in San Francisco.
It's great for families or anyone looking for a short, relaxing hike with views of the Pacific Ocean. It has benches, observation scopes, and informational signs that are all placed in the right places.
---
3. Reinhardt Redwood Regional Park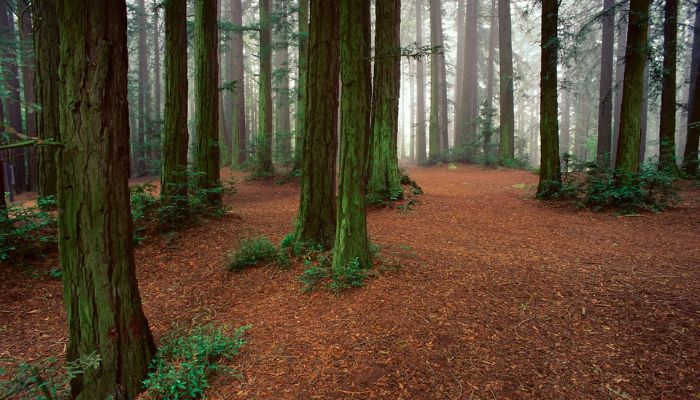 Reinhardt Redwood Regional Park is a great place to get away to the woods with little driving. It feels far away, but it's only a few miles from downtown Oakland. On these 1,833 acres, there is a forest of coastal redwood trees, grasslands full of wildlife, and rare bird species. One of the best hikes around San Francisco.
The paved, mile-long Stream Trail takes hikers of all skill levels and access levels through the heart of Redwood Canyon. More adventurous hikers can choose from a wide variety of trails in this well-marked, well-connected network.
---
4. Mount Diablo State Park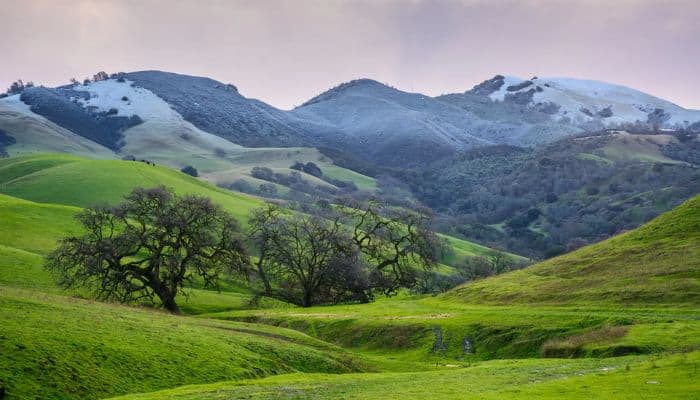 Mount Tam in Marin has a more beautiful view, but Mount Diablo is much taller at 3,848 feet and looms over the East Bay. From a distance, its slopes look gentle, but the Summit Trail, which goes all the way to the top, is a 6.8-mile climb that only serious hikers should try.
From the Mitchell Canyon Staging Area, which is a steep climb, you can see far beyond the Bay Area. You can see the Farallon Islands past the Golden Gate, the Sierra Nevada's to the east, and even Half Dome in Yosemite.
You can drive to the top, but walking is a much better way to get there.
---
5. Angel Island State Park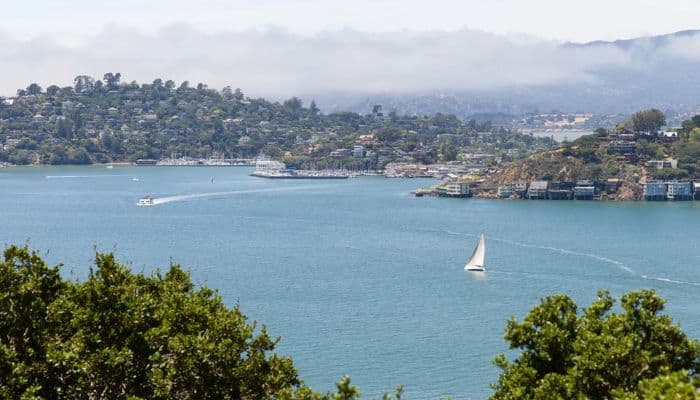 Half of the fun of hiking on Angel Island in the middle of San Francisco Bay is the ferry ride there from Fisherman's Wharf or the town of Tiburon in Marin County. The island has a long and complicated history.
It was used as an immigration station, a quarantine center, and a US Army base in the early 1900s. But the island's natural beauty is reason enough to go see it. Follow the North Ridge Trail, which winds its way up Mount Livermore in a 5.9-mile loop through pines, oaks, and beautiful wildflowers, for the best views of the Bay Area.
---
6. Mori Point Loop Trail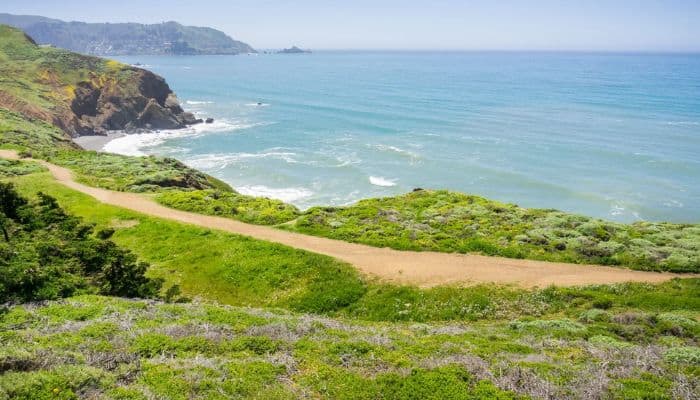 Mori Point Loop Trail is perfect for a short, pretty hike that won't take up most of a day. The 32-acre wetland park on the coast of Pacifica is less than a half-hour drive south of San Francisco. It has both a half-mile flat trail and a 1.5-mile loop with more hills.
The shorter one goes straight to the Pacific, while the longer one goes up to the coastal bluffs, where you might see whales during their winter migration, hillsides of wildflowers in the spring, and all kinds of birds.
Mori Point Loop Trail is dog-friendly, which is different from many state and national parks. This means that your dog can also have a day out. No matter how warm it is inland, you should always bring an extra layer when hiking along the coast in the Bay Area.
---
7. Batteries to Bluffs Trail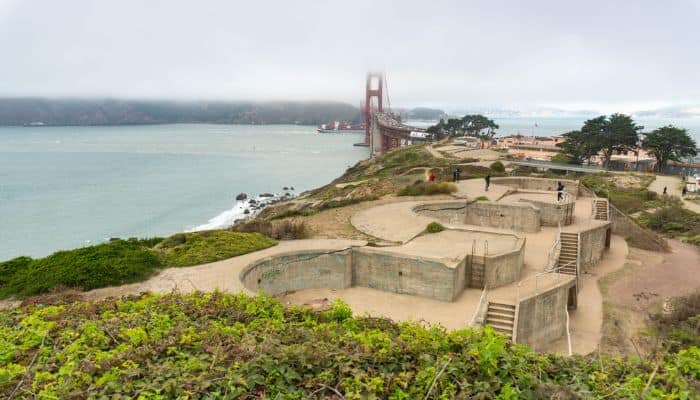 We'd recommend the Batteries to Bluffs Trail to anyone who is going to San Francisco for the first time. You can get some of the best views of the Golden Gate Bridge from this trail. It also has reminders of San Francisco's military past as you pass through several batteries and stop at Marshall's Beach. You enjoy one of the best views of San Francisco.
This trail goes from the Golden Gate Bridge to Baker Beach, so you can start at either end and stop at Marshall's Beach on the way. Since this trail starts at the top of the bluffs and goes down to the beach, you gain a lot of height in a short amount of time. Most of this is done with the help of stairs made of wood that are built into the trail.
---
8. Tomales Point Trail at Point Reyes National Seashore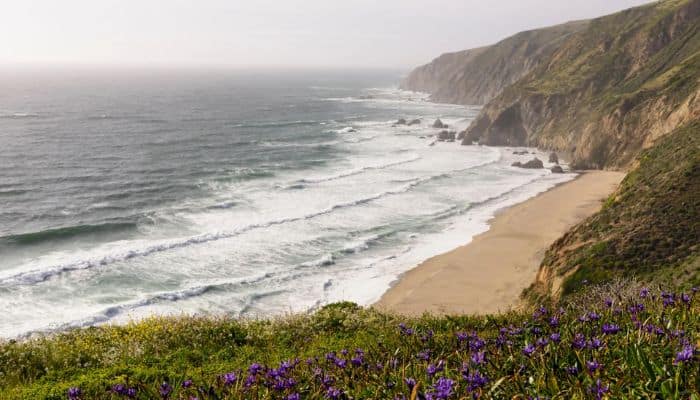 The Point Reyes area is full of must-see places, such as the historic Point Reyes Lighthouse, the wild Pacific Ocean crashing onto the shore, and the charming shops and restaurants at Point Reyes Station.
It's also home to the Tomales Point Trail, which is one of the best coastal hikes in a state with a lot of them. The almost 10-mile round-trip hike has the ocean on one side and Tomales Bay on the other.
It is mostly flat and goes through the Tule Elk Reserve, where you can see proud animals grazing in front of the mighty Pacific. Even if you don't see any elk, you'll probably see coyotes, foxes, and hawks.
---
9. Presidio Loop Trail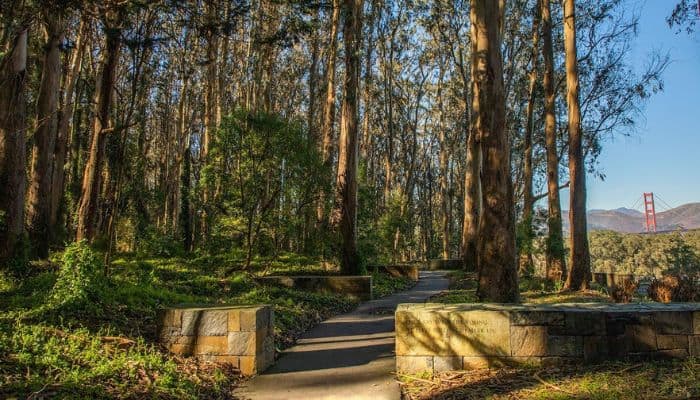 The Presidio of San Francisco is a well-known place to see views of the Bay Area. It is on the northern tip of San Francisco and is connected to the Golden Gate Bridge. The park was a military post until 1994, and it has many hiking trails, beaches for swimming, and old military buildings.
This important public space in San Francisco is also home to cultural sites like the Presidio Officers' Club and the Walt Disney Family Museum.
On the roads of the Presidio, you can drive a car, but the best way to enjoy the beauty of the Bay Area is to walk along the shore. Near the historic Fort Mason, east of the Golden Gate Bridge, visitors can get to the Golden Gate Promenade and Crissy Field, which are next to a sandy beach where dogs can run free.
Hikers, bikers, and joggers can keep going through the historic Crissy Airfield until they reach the Golden Gate Bridge Welcome Center, which is less than two miles away.
From the Golden Gate Bridge, a trail runs along the southwest shoreline. Hikers will find the Batteries to Bluff Trail, which has beautiful views of the bridge. On this side of the Presidio, you can also get to Baker Beach, which is one of San Francisco's best beaches. Lands End Trail, which is just as famous, is farther southwest from Baker Beach along the coast.
---
You Might Also Like
---
---
FAQs About Best Hikes in San Francisco
Does San Francisco have hiking?
San Francisco is great for hiking because it has a mild climate all year and more than forty hills. The same is true for the rest of the Bay Area. Just a short drive from the city are natural wonders like tall redwood trees, steep cliffs, and green valleys.
How long is Lands End trail?
3 miles
The basic loop trail is 3 miles long, which you could easily do in an hour. But this guide suggests detours, places to look at the scenery, and memorials. If you stop at all of the places below, it will take about 2.5 to 3 hours and cover about 4.5 miles.
How long does Mori Point loop trail take?
1 h 8 min
Find out about this 2.5-mile trail loop near Pacifica, California. Most people think of it as a moderately hard route, and it takes an average of 1 hour and eight minutes to finish. This is a very popular place for hiking, trail running, and walking, so you'll probably run into other people while exploring.
How many steps is Mori Point Loop Trail?
185 steps
We were taking pictures when we saw the famous Bootlegger's Steps and started to climb them. Even though the Bootlegger's Steps are only 0.11 miles long, they go up 200 feet, and Carter counted 185 steps on his way up!
---
Tell Us In The Comments About One Of The Best Hikes in San Francisco!
Also, don't forget to book your personalized holiday package with Tripononline. Let us make your vacation a romantic as well as a dreamy getaway.