Breakfast is the most important meal of the day, so plan for a leisurely start to each day in Key West. You'll need some hearty food to keep you going, whether you're going out on the water or on a bike tour.
Hood line crunched the data to uncover the best breakfast in Key West, with our special sauce to create a sorted list of options for the best breakfast in Key West.
Croissants de France has shady patios that make it easy to stay for a while, At Banana Café, you can eat homemade crepes and quiche while watching the people on Duval Street.
Most of the menus have dishes like the Key West shrimp omelet at Sarabeth's and the Lobster Benedict at Blue Heaven, which are made with fresh seafood from the area.
Outdoor stands like Cuban Coffee Queen sell café con leche and hearty Cuban sandwiches that you can grab and go.
Do you need some home cooking to cure your hangover? Since 1909, Chock Full o' Nuts coffee and chipped beef on toast have been served at Pepe's Café. Harpoon Harry's is an old-fashioned diner that serves comfort food like country fried steak with sausage gravy on top.
No matter if you had a late night or got up early to see the sunrise, these best breakfast places in Key West will get your day off to a good start.
We apologize in advance for any cravings caused by this article. If you enjoy our blogs, make sure to follow us on Facebook and Instagram.
---
Best Breakfast Places in Key West
Key West doesn't mess around when it comes to the first meal of the day. You don't have to go too far from Duval Street to find a wide range of breakfast foods, from French-style food to a cortadito that will wake you up to biscuits and gravy. Make a reminder and start eating!
Mealtimes often affect our selections, restricting our restaurant options. Allow Tripononline to assist you when your options are limited. We'll point you in the right direction for the best breakfast places in Key West, saving you the trouble of calling around to find out when they're open. 
1. Croissants de France
Croissants de France is a coffee shop, a bakery, and a bistro all in one place. Even though there are some well-made breakfast dishes, like benedicts and crêpes, the best thing about this place is the selection of pastries. One of the best breakfast places in Key West.
Order beignets if you get there early enough in the day and there are still some left. Since the restaurant opened in 1984, the croissants have been the main draw. The raspberry version is a local favorite, but the coconut cream is also a great choice.
---
2. Blue Heaven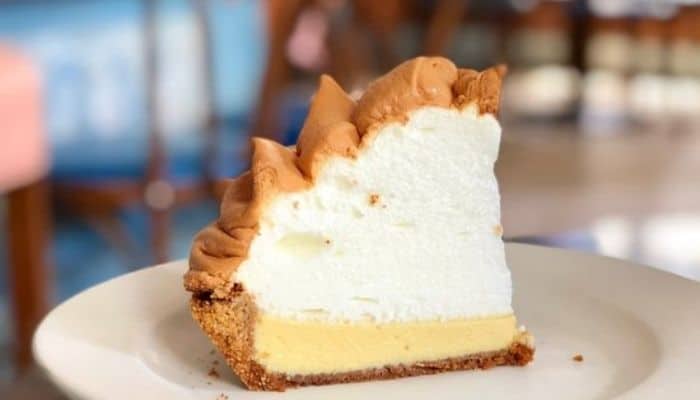 It's hard to walk by Blue Heaven and not notice it. It has a bright blue fence, a big retro sign, lots of people talking, and live music at lunch and dinner. But a line of hungry people waiting patiently for the next table is an even easier way to find it, especially in the early morning.
The fact that there are always lines should tell you something about how good the food is, especially since there are restaurants every few feet in this area. The fact that Blue Heaven has been a popular place to eat for more than 25 years should also be a plus.
If you want the most authentic experience, you should eat outside. The tables are set back from the street a bit and behind that blue fence, so it's more private than most other places where you can eat outside.
Don't be surprised if one of the restaurant's cats or roosters joins you. (If the thought of a rooster coming up to you is scary, you can eat inside where there are no roosters.) The menu even has a dish called the "Rooster Special," which includes two eggs, your choice of potatoes or grits, bacon or sausage, and pancakes, toast, or banana bread.
Blue Heaven's pancakes are just the right amount of fluffy and can be made with banana, pineapple, pecans, or blueberries for people with a sweet tooth. No matter what time of day it is, though, we have one important tip: save room for the Key lime pie, which has a huge layer of baked meringue on top and is considered by many to be one of the best desserts in the city.
---
3. Harpoon Harry's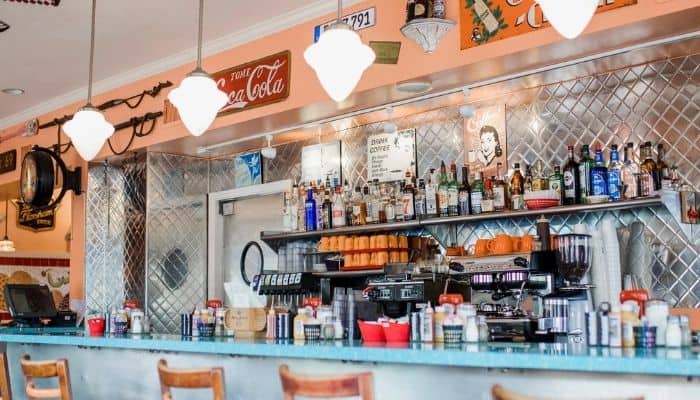 Even though it's hard to beat Key West's Historic Seaport for sights, sounds, and smells, Harpoon Harry's has been doing it for more than 20 years. The building is one block from the water and has a bright pink exterior that stands out.
Maybe even more amazing? This diner is in one of the busiest tourist areas of the city. It is a real diner, with counter seating and blue-plate specials, and it is proud of its hearty comfort food and low prices. One of the best breakfast in Key West.
---
4. Pepe's Café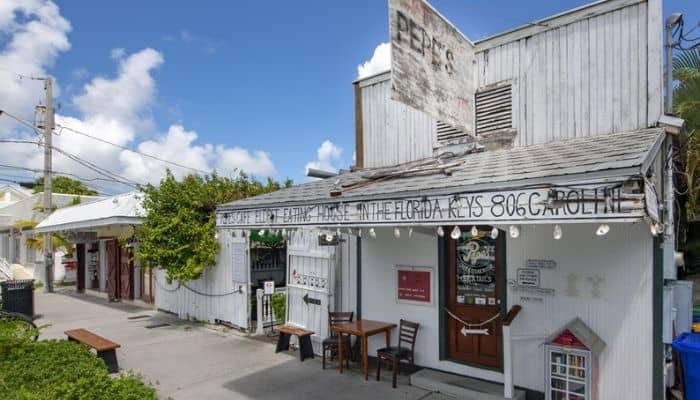 Pepe's first opened in 1909, and it likes to show off that fact. Old photos of Key West hang above the worn wooden booths and tables, which are filled with hungry diners as early as 7:30 a.m.
Along with the homemade bread, the French toast and pancakes (we recommend them with blueberries) are two of the most popular breakfast options. But making your own omelet is the best way to get what you really want.
---
5. Banana Café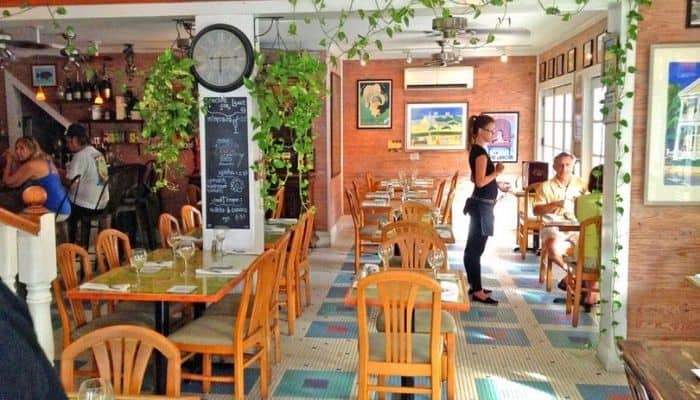 The Banana Café on the corner of Duval and Louisa streets in sunny South Florida is like a little piece of Paris. It opens at 7:30 am. That's good news for people who get up early and don't want to wait for a table, because if you show up after 9 am, you probably will have to wait.
If you think you're going to "discover" a well-kept secret in Key West, you're wrong. You will get some of the best crepes on this side of the Atlantic Ocean, though.
Inside, it's light and airy, and there are little touches of tropical green everywhere to remind you that you're in paradise. See if there is a table on the rooftop if you want to eat outside.
---
6. Cuban Coffee Queen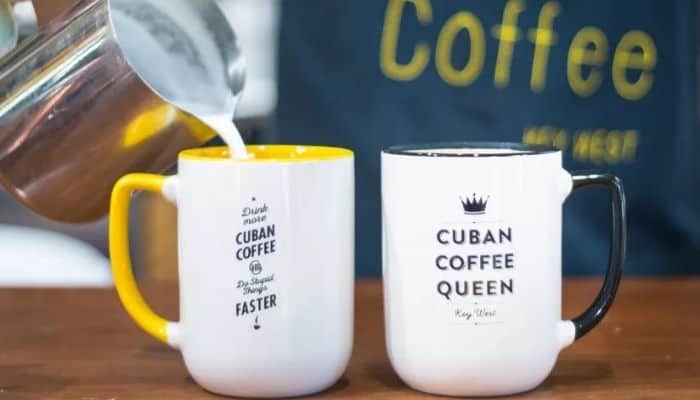 Miami is known as the place to go in South Florida for authentic Cuban food, but Key West is giving it a run for its money with its two Cuban Coffee Queen shops: one downtown (5 Key Lime Square) and the original storefront on the waterfront (284 Margaret Street).
Even though the downtown location has a few tables outside where you can eat your food, this is not a place where you can sit down and be served. It's a place where you can only get coffee and food to go, but that doesn't mean the food is simple.
In fact, it's quite the opposite. More than 20 kinds of sandwiches, burgers, and other foods that are easy to eat with your hands are on the breakfast menu. On pressed Cuban bread, The Cuban Mix has fresh roasted Mojo pork, ham, Swiss cheese, sliced pickles, mayo, mustard, lettuce, tomatoes, and onions.
The Shipwreck Sandwich has chorizo, roasted green peppers and onions, pepper jack cheese, jalapeos, cilantro chimichurri sauce, lettuce, and tomato. Of course, many customers only care about the coffee, and that's fine (the word is in the name after all).
The café has all the Cuban specialties you've heard about, like a coffee con Leche (Cuban coffee with steamed milk), a double Cuban espresso (an even stronger version of the coffee con Leche with cane sugar and steamed milk on top), and a colada (four shots of Cuban espresso served in a large cup with small shot glasses to share). The best way to wake up in the morning is with the best breakfast in Key West.
---
7. Two Friends Patio Restaurant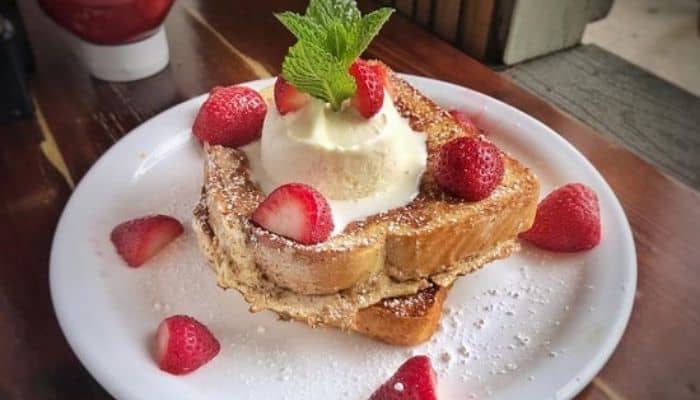 Two Friends, which used to be a bordello in the 19th century, serves American breakfast classics like omelettes, steak and eggs, biscuits and gravy, eggs Benedict, breakfast burritos, pancakes, and waffles, and does them all very well.
Some of the dishes on the large menu aren't as common as others, like the crab cake Benedict with a Caribbean twist and the Key lime-stuffed French toast with strawberries and strawberry puree on top. Save room for Stella's Famous Hashbrowns, which are made with cream cheese and cheddar cheese and served with sour cream.
---
8. Bagatelle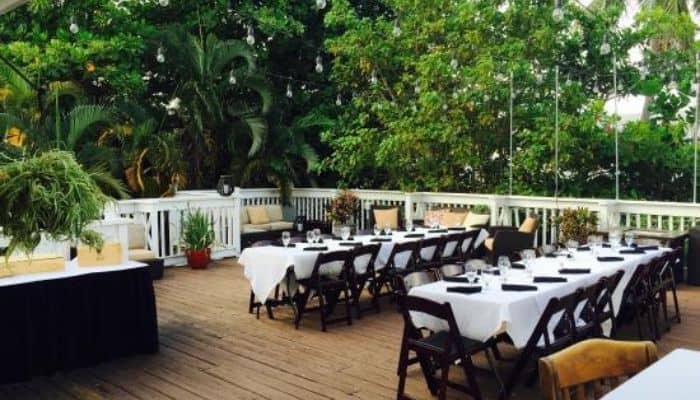 The brunch at Bagatelle is the best brunch in Key West. The main dish is eggs, which can be made in many different ways, like with biscuits and gravy or chicken and waffles.
The Benedicts may be the most popular part of the menu. A tangy lobster version is made with local lobster meat that has been sautéed and a Key lime Hollandaise sauce.
The restaurant bar also has a breakfast "hangover" happy hour every day from 9 a.m. to 11:30 a.m., when you can eat $5 hair-of-the-dogs and smaller breakfast dishes in the style of tapas.
---
9. Hot Tin Roof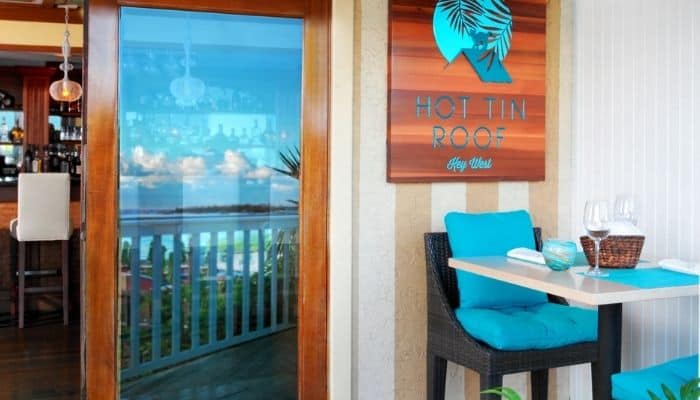 For any meal at Hot Tin Roof, you'll want to wear something a little nicer than your old, worn-out sweatpants. The restaurant is inside the fancy Ocean Key Resort, so the official dress code is "resort casual."
You might see one or two people in swimsuits, but that kind of casualness is likely to get more than a few snide looks. If you only want to come here for one meal, make it Sunday best brunch in Key West and call ahead. For $49 per person, you can get as many mimosas or Bloody Marys as you want, a raw bar at your table, and a la carte items as you want.
---
10. Sarabeth's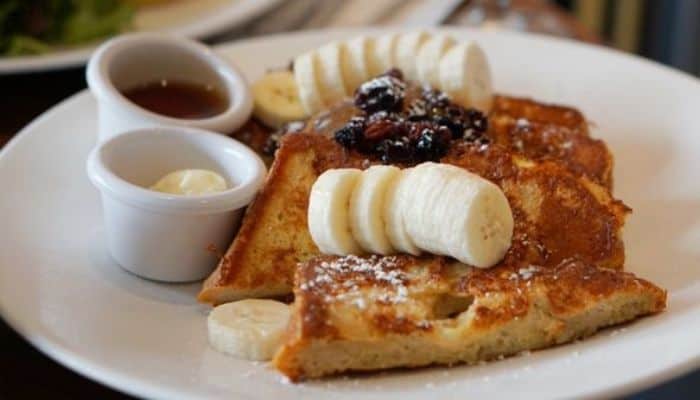 In 2005, Sarabeth's, a sunny brunch spot that New Yorkers have been going to for almost 40 years, opened this location in the Sunshine State in what was the state's first synagogue.
The chefs use organic and local ingredients to make unique versions of classic breakfast dishes, like a shrimp-and-bacon omelet and the Fat and Fluffy French Toast, which has been Sarabeth's signature dish for more than 30 years.
If you want eggs, go for the Goldie Lox, which is scrambled eggs with smoked salmon and cream cheese. At Sarabeth's, you can find the best brunch in Key West.
---
You Might Also Like
---
---
Tell Us In The Comments About One Of Your Favorite Best Breakfast Places in Key West!
Also, don't forget to book your personalized holiday package with Tripononline. Let us make your vacation a romantic as well as a dreamy getaway.