San Antonio is a small city. It used to be possible to drive from Austin or Houston to San Antonio in one day. Over the years, the city has grown, and so has the list of the best things to do in San Antonio. You can't explore the city in a single afternoon anymore, because San Antonio is now a real weekend getaway.
Even before San Antonio was on national travel lists, people came from all over to float down the charming River Walk, learn about Tejano culture, and, of course, "Remember the Alamo!" Over the past 10 years, about 100,000 new people moved to San Antonio, and the city's attractions have grown to include hip new neighborhoods, cultural events, and a thriving food scene.
Those seeking a little Texas frontier history are sure to find it here—San Antonio proudly touts sites like the Alamo, the San Antonio Missions National Historical Park, and the Spanish Governor's Palace.
The museums, such as the San Antonio Museum of Art, are also not to be missed. This city also makes for a great family vacation – with educational and adrenaline-pumping fun. SeaWorld and Six Flags Fiesta Texas will thrill both you and the little ones.
And no city tour would be complete without a stroll down the River Walk, a 3-mile-long path along the San Antonio River, which hits many attractions. For help navigating the city's top things to do, sign up for one of the best San Antonio tours.
Here are the things we think are the best things to do in San Antonio, no matter how many times you have to go.
Keep reading for more on the 11 best things to do in San Antonio, Texas. If you enjoy our blogs, make sure to follow us on Facebook and Instagram.
---
Best Places to Visit in San Antonio
How should you spend your weekend getaway? San Antonio is one of the best places to visit in San Antonio, Texas, and the best things to do there range from visiting historic sites to going to fun bars and restaurants. Here's everything you should put on your list of attractions in San Antonio.
We hope that our list of the 11 best attractions in San Antonio helps you plan a fantastic trip to the city.
1. Pearl District
The Pearl District is the coolest part of San Antonio. It gets its name from the old Pearl Brewery, which has been fixed up and is now the artsy-boutique Hotel Emma. The Pearl District is a real center of culture because it is full of old buildings, beautiful restaurants (we love Mon Chou Chou), cute gift shops, and art galleries. One of the best attractions in San Antonio.
You can listen to live music at the monthly night market, get a drink or snack at the Bottling Dept Food Hall, hear literary readings at Twig Book Shop, or shop at one of the independent boutiques, and all of these things are within a few blocks of each other.
---
2. The River Walk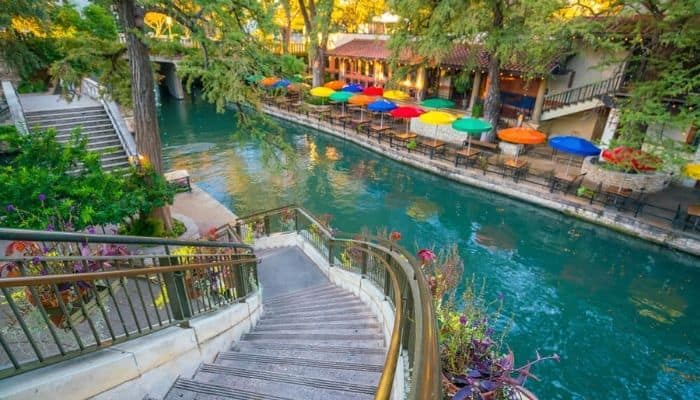 The River Walk, which is also called Paseo del Rio, is 15 miles long and 20 feet below street level. But homes, shops, museums, hotels, and restaurants line a five-mile stretch of the river in downtown San Antonio that is the most popular. One of the best places to visit in San Antonio.
In this area, the stone pathways are filled with mariachi bands and river taxis that keep people entertained while they look at the beautiful buildings around them. It is one of the best attractions in San Antonio.
---
3. San Antonio Museum of Art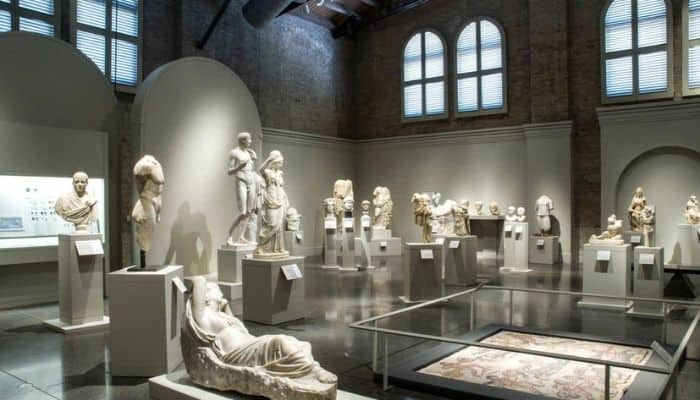 The San Antonio Museum is in a building that used to be the Lone Star Brewery. It gives visitors a cultural experience that can't be found anywhere else. The museum has an impressive collection of art that spans more than 5,000 years and a wide range of styles, from ancient to modern.
But the museum is best known for having the most impressive collection of Greek, Roman, and Egyptian art in the southern United States. The Nelson A. Rockefeller Latin American art wing also has an amazing collection of art from that region. Adults have to pay $20 to get in, but on Tuesday and Sunday, SAMA is free.
---
4. Hopscotch San Antonio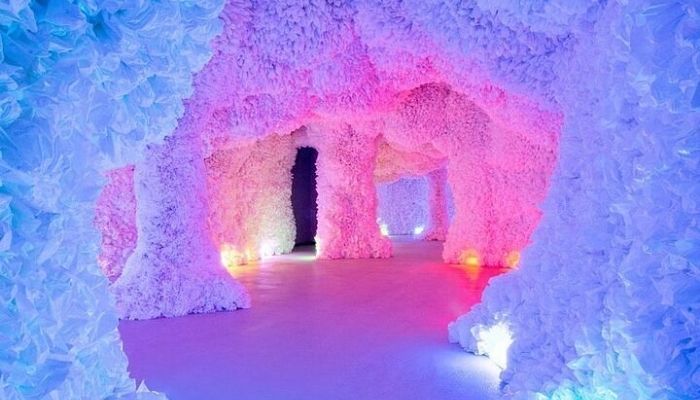 Hopscotch San Antonio is a place to go if you want to do something creative that is also a little bit boozy. Since it opened, the immersive art experience has been attracting people who want to take selfies in front of the colorful yet thought-provoking displays by talented artists who work in many different mediums. One of the best places to visit in San Antonio.
Don't want to ruin the surprise, but there will be a lot of optical illusions that will blow your mind and a lot of neon lights. A full-service bar adds to the fun, and many of the exhibits are about diversity and acceptance, showing that love is love in Texas, too.
---
5. Natural Bridge Caverns
The Natural Bridge Caverns are the biggest commercial caves in Texas that people know about. The caverns were found in the 1960s by four students from a university in San Antonio. They are named after a 60-foot limestone slab bridge that is at the entrance. One of the best places to visit in San Antonio.
Every day, tourists and locals go on tours 180 feet below the ground to see ancient rock formations and big caves. Natural Bridge Caverns has a lot to offer. There are different kinds of tours and things to do on the surface, like obstacle courses and digging for gems and fossils.
---
6. San Antonio Botanical Garden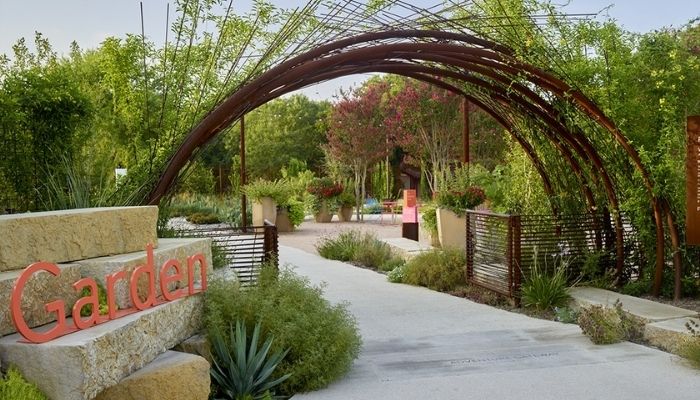 The San Antonio Botanical Garden is a non-profit place that has 38 acres of land and is fun for all kinds of people. Each season brings new exotic plants, desert plants, and even a rose garden that attracts a wide range of birds and insects.
After you've looked around, stay and eat at their beautiful garden restaurant, Jardin.
---
7. The Alamo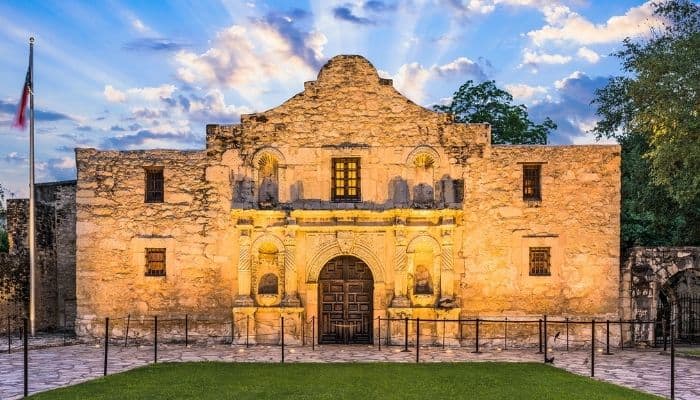 The Alamo is the thing that everyone knows about San Antonio. This place used to be a Franciscan mission. In 1836, during a 13-day siege by President Antonio López de Santa Anna, who was in charge of Mexico, 189 Texans fought and died here.
The battle was the start of Texas' fight for independence, and today the Alamo is a memorial to the men who fought there. It has artifacts from some of the Alamo's most famous defenders, like Davy Crockett and James Bowie. One of the best places to visit in San Antonio.
Once you're done touring the Alamo (on your own or with a guide), go around the back to a small museum and research library to learn more about the siege. You could also stop by the gift shop, where you can find many things that will help you "Remember the Alamo."
Recent visitors said the site can get busy, so try to go early in the morning or late at night. Most visitors also agree that the Alamo is a must-see in San Antonio, even when it's full of people.
---
8. San Fernando Cathedral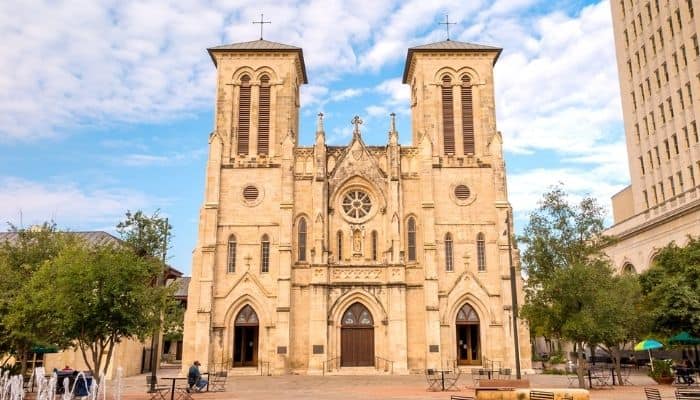 When you're in San Antonio, it's hard to miss the San Fernando Cathedral. The cathedral is one of the oldest places of worship in the country. It was built in 1738 by people who came from the Canary Islands as colonists.
Here, General Antonio López de Santa Anna talked about his plans for the Alamo and the famous Wild West figure James Bowie got married. Some people think that Davy Crockett and other heroes from the Alamo are buried in an unmarked tomb here. Even though a fire in the late 1800s caused damage, the San Fernando Cathedral still has an old look that makes you want to see its beautiful inside.
Even though you can go inside during the day, recent travelers say that you should go at night to see the free light show. Every Tuesday, Friday, Saturday, and Sunday at 9 p.m., 9:30 p.m., and 10 p.m., the building's facade is lit up with mesmerizing images that have thrilled San Antonio visitors in the past. You should check the Main Plaza website again to make sure that the show is happening.
---
9. San Antonio Missions National Historical Park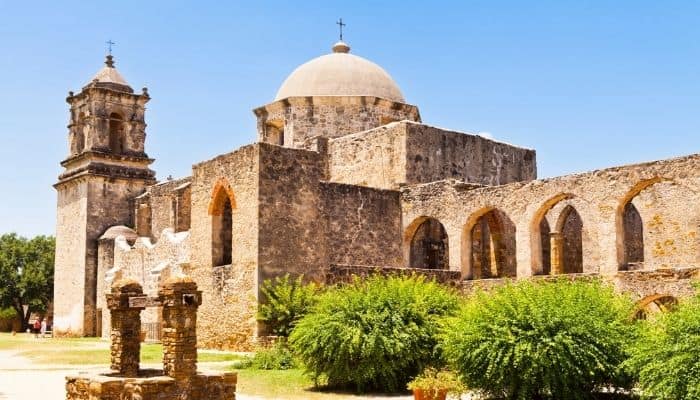 San Antonio Missions National Historical Park is a UNESCO World Heritage Site that protects four Spanish frontier missions and draws people who want to learn more about San Antonio's history.
Visit Mission Concepcion, Mission Espada, Mission San Juan, and Mission San Jose to step back in time 300 years and learn about Spanish colonial history. In all four missions, there are still active Catholic parishes where services are held regularly. One of the best attractions in San Antonio.
Keep in mind that the missions are far apart, but the San Antonio River Walk Hike connects them. If you want a guided Bluetooth experience on a bike path, you can join Mission Bike Tours.
---
10. Six Flags Fiesta Texas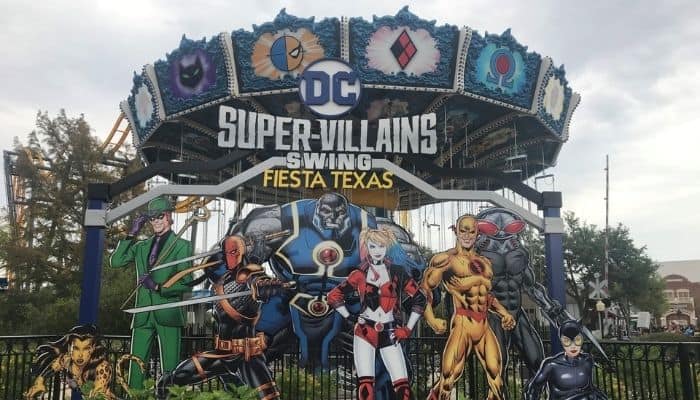 Six Flags Fiesta Texas is about 17 miles northwest of downtown San Antonio. It is a year-round destination for families and people looking for a thrill. The park has more than 50 different things to do, like roller coasters, slides, pools, and go-karts. Six Flags Fiesta Texas is an easy place to spend a whole day (or three) because you can shop and eat at many different places.
People who have been to Six Flags Fiesta Texas in the past really liked the water park, which is nice on hot summer days. But a few reviewers complain that the water park was closed when they were there, so make sure to check before you go.
---
11. San Antonio Zoo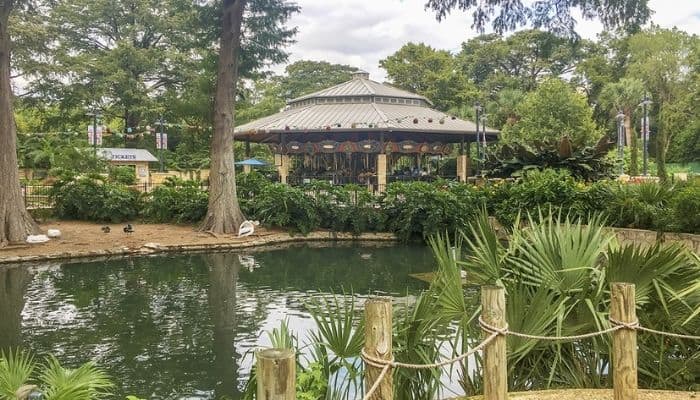 Families who love animals but don't want to spend a lot of money can go to the San Antonio Zoo instead of SeaWorld San Antonio. One of the largest animal collections in the country is on this 56-acre property (more than 700 species reside here).
Some of the displays include a place for butterflies to live, animals with four legs from the African plains, and colorful animals from the Amazon. All through the year, there are special events like feeding the animals and different festivals.
People who have been to the zoo before liked the large butterfly exhibit and the small train that goes through the zoo. Some parents say that one of the best things about this zoo is that visitors don't have to worry about running into a gift shop at every turn.
---
You Might Also Like
---
---
FAQs About Best Attractions in San Antonio
What is San Antonio's #1 attraction?
River Walk
Along the San Antonio River Walk, you can walk, eat, or take a boat ride. The River Walk, with its stone paths and restaurants along the San Antonio River, is the main attraction in San Antonio.
What is San Antonio most known for?
People know that San Antonio, Texas, is the seventh largest city in the United States. It's a popular place for tourists to visit, and places like the Alamo, Sea World, and the San Antonio Botanical Garden are well-known there. The city is also home to the San Antonio Spurs basketball team and a busy business district.
How far is Riverwalk from Alamo?
It takes 2700 feet to drive from The Westin Riverwalk in San Antonio to The Alamo. From The Westin Riverwalk in San Antonio to The Alamo, it takes about 1 minute to drive.
What is the best month to visit San Antonio Texas?
From November to April, when the weather is nice and hotel prices are low, is the best time to visit San Antonio. The most tourists from inside and outside the state come in the summer.
What is there to do in San Antonio for a day?
---
Tell Us In the Comments About One Of Your Favorite Things to do in San Antonio, Texas!
Also, don't forget to book your personalized holiday package with Tripononline. Let us make your vacation a romantic as well as a dreamy getaway.