In June, summer arrives, bringing with it a vacation and travel plans. Festivals are back on the calendar, and popular summer destinations such as Provence and Alaska are expecting a slew of visitors.
Because many tourists choose to stay close to home, we've put together a list of domestic places that are guaranteed to attract first-time visitors this year. The best places to travel in June in the United States and around the world are listed here.
To help, we've compiled a list of the best places to travel in June where you may have a fantastic holiday.
International travel is on the rise, and we've put together a list of countries that are particularly gorgeous during this time of year, with plenty to do and see. As spring gives way to summer, we hope your thoughts shift to holiday trip plans.
If you enjoy our blogs, make sure to follow us on Facebook and Instagram. 
---
Best Places To Travel In June
For those of us in the Northern Hemisphere, June marks the beginning of the summer season, and the prospects for this year's vacation have us more enthusiastic than ever. We're easing back into foreign travel as more nations open their borders, whether it's visiting the beaches of Crete or climbing gorilla reserves in Rwanda.
We're also looking forward to all of the domestic events and openings that will take place in June, from the natural beauty of Alaska and Yosemite National Park to Pride celebrations around the country.
Here are the 11 best places to travel in June whether you want to start the season off right—or simply need an excuse to getaway.
Greece opens its doors to vaccinated visitors, making us want for a Mediterranean summer. Even better if that summer can be spent on Crete, with its crystalline waters, secluded coves, and direct flights from New York to Heraklion, the capital city. One of the best places to travel in June.
Visit Chania for one of the nicest beaches in the world (about two hours west of Heraklion). Balos, with its exceptionally clear water, and Elafonisi, a pink-sand utopia, are both located here.
Head to the brand-new Numo Ierapetra in southern Crete after nightfall for a luxurious seaside resort with private pools and personalized experiences like private photography lessons.
---
There's always something going on in Music City, and this June will see the return of CMA Fest, which will take place on stages across Nashville from June 9 to 12. The public is welcome to attend the daytime activities and outdoor stages. With ToursByLocals and noted historian David Steel E., learn about Nashville's participation in the Civil Rights Movement.
Be among the first to stay at the new Conrad Nashville, which will open in May 2022 and is just five minutes from Music Row. Holston House, Bobby Hotel, The Westin Nashville, The Joseph, and Bode Nashville are all excellent locations to stay.
For a small gathering, consider a Vacasa rental like Illume 305 or Cumberland Cool. From spicy chicken at Party Fowl to a modern American culinary experience at Saint Stephen with James Beard award-winner Chef R.J. Cooper, don't miss Nashville's amazing food. One of the best places to travel in June in USA.
---
Yosemite is beautiful no matter what time of year you visit, but June is unquestionably the finest month to visit. All of the snow has melted along the Tioga Pass path (which is closed from November to May), but it isn't yet hot enough for the waterfalls to dry up. The park's wildflowers are also at their most gorgeous and plentiful during this time.
If you don't want to wait in line, look through our list of the top Airbnbs near Yosemite National Park—you won't need a reservation if you stay within the park's boundaries. One of the best places to travel in June in USA.
---
Ketchikan Alaska USA located just two hours north of Seattle should be on everyone's summer trip radar. The village is surrounded by exceptionally stunning panoramas and an abundance of animals, including salmon, and is located at the southernmost gateway to Alaska's famous Inside Passage. (It's recognized as the "world's salmon capital.")
The annual salmon migration, in which millions of fish migrate from the ocean to Alaska's freshwater rivers to breed, takes place during the summer. It's a sight to behold.
Fishing equipment, fish processing (including cleaning and cutting), chartered boat and seaplane trips, and wine tastings with salmon roe are all available at Salmon Falls Resort in the Tongass National Forest. One of the best places to travel in June in USA.
---
Croatia is now available to fully vaccinated visitors, and the weather is beautiful in the early summer, so you can stroll through Dubrovnik's Old Town or Zagreb's walled core without sweating through your clothes.
Plus, along popular stretches of sand like Zlatni Rat, you'll have plenty of room to spread out your towel. Head north to Istria, a peninsula shared by Croatia, Slovenia, and Italy, if you truly want to avoid the throng.
There are some new luxury hotels there, such as San Canzian. On clear days, the hotel inhabits an old, renovated village with vistas of all three nations from its high elevation.
---
Juneteenth (a commemoration of the end of slavery in the United States on June 20), which was commemorated as an official state holiday, will be a key destination for travelers interested in Black history. One of the best places to travel in June in The US.
You can also visit some of Richmond's Black-owned companies while you're in town. Rabia Kamara, the proprietor of Ruby Scoops, launched an ice cream parlor in Brookland Park, serving customers unique tastes like sweet corn and Old Bay caramel. Ms. Girlee's Kitchen serves soul food and Lillie Pearl serves New American cuisine.
---
Even in these uncertain times, Rwanda remains one of the best places to visit in June. However, from there, you can enjoy the main reason visitors come to Rwanda: gorilla trekking. (The dry season begins in June, which is perfect for hiking.)
Obtain a permit to visit Volcanoes National Park, where you can see some of the surviving 880 mountain gorillas on the planet. Stay at the Wilderness Safaris Bisate Lodge, which is right in the park and has a balcony with views of the Virunga range.
---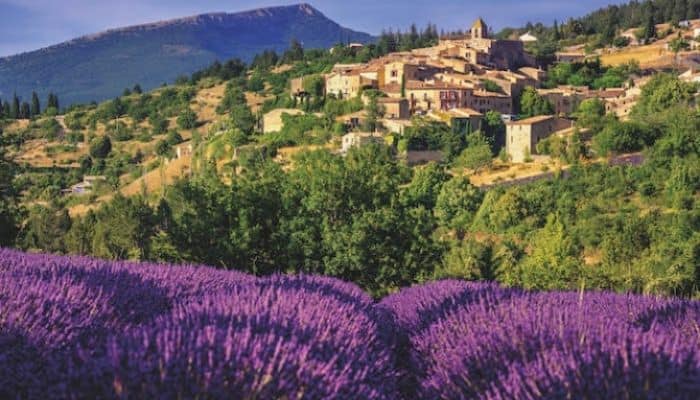 The weather is near-perfect in June, and the summer throngs have yet to descend upon the cities and beaches. But what's the most compelling reason to visit France at this time of year? Lavender.
The flowering season for lavender in Provence begins in mid-June and lasts through the more congested months of July and August, it is the best time to visit Provence for lavender.
Fill your camera roll with purple photos before booking one of our favorite Airbnbs in the South of France, such as Julia Child's former cottage a few hours outside of town.
---
Chattanooga is located in southeast Tennessee near the Georgia border, along the Tennessee River, where the Riverwalk offers restaurants, boat ramps, and scenic views.
High atop stone cliffs, the historic Bluff View Art District is home to galleries, parks, restaurants, coffee shops, the Hunter Museum of American Art, and spectacular views of the river and city.
The National Medal of Honor Heritage Center, the Bessie Smith Cultural Center, Songbirds Center, and the Chattanooga Selfie Museum are all worth a visit if you're looking for Instagram-worthy backdrops. One of the best places to travel in June in The US.
Don't miss Lookout Mountain and Raccoon Mountain Caverns, which offer plenty of outdoor activities. The Riverbend Festival takes place June 3-5, and the Nightfall Concert Series takes place every Friday evening.
---
Lexington is known as the Horse Capital of the World, with over 450 horse farms, the famous Keeneland Racecourse, tours, carriage rides, and, of course, horseback riding. Bourbon enthusiasts are familiar with Lexington's distilleries and its long history.
Whatever attractions are on your itinerary in Lexington, Kentucky, you'll want to know about SoulFeast Restaurant Week, which goes June 20-26 and celebrates the city's Black cuisine, as well as the downtown Juneteenth Festival, which features music, art, food, and chef demonstrations.
The new boutique Elwood Hotel & Suites, The Origin Hotel, 21c Museum Hotel, and the Lexington Griffin Gate Marriott Golf Resort & Spa are just a few of Lexington's various lodging alternatives. One of the best places to travel in June in The US.
---
The Okanagan Valley is known for farms, orchards, vineyards, lakes, and pine woods in the winter and as a popular vacation resort in the summer. Visit in June, when the snow has melted and the summer crowds have not yet arrived.
The valley is home to a number of distilleries, cideries, and breweries, as well as being British Columbia's primary grape-growing region. Chardonnay, cabernet sauvignon, merlot, sauvignon blanc, and a variety of other varietals are among the wines produced there.
The first vines were planted about fifty years ago at Phantom Creek Estates, and the winery today produces Bordeaux reds, Alsatian whites, Viognier, and syrah.
Stay at the pet-friendly Spirit Ridge Lake Resort, which features a spa, golf, and Nk'Mip Cellars, North America's first Indigenous-owned winery.
---
You Might Also Like
---
FAQs About Best Places To Travel In June
Where is it best to travel in June?
Is June a good month to travel?
June is a popular travel month all over the world. It's also for a good purpose. In June, you can view some of the world's most popular species, there are numerous summer-themed festivals taking place, and the weather is at its best in many parts of the world.
What is the best beach to visit in June?
8 beach destinations to visit this summer
1. Gili Trawangan, Indonesia.
2. Grace Bay Beach, Turks, and Caicos.
3. Islas Marietas, Mexico.
4. Similan Islands, Thailand.
5. Mykonos, Greece.
6. Malindi Marine National Park, Kenya.
7. San Blas Islands, Panama.
8. Isla Saona, Dominican Republic.
What is the best country to visit in summer?
Here is the list of 10 Best Countries To Visit In July for a Enchanting Vacay
1. Canada – Dive in the Beauty of Niagara.
2. Indonesia – Where Scenes of Nature Unwind.
3. Germany – The land of festivals.
4. Iceland – The home of nature.
5. USA – The hub of diversity and opportunities.
6. France – You'll Fall In Love.
7. Greece – Experience the Colors of Myths.
8. Mexico – History in Jungles, Party in Clubs.
9. Switzerland – land of stereotypes.
10. Seychelles – The honeymoon paradise.
When should I visit the Okanagan Valley?
The weather is fairly pleasant during the middle of the year, with high temperatures that are quite warm. Moderate precipitation occurs during these months, with 2 to 5 days of precipitation per month. Because the summer season in the Okanagan Valley is the busiest, lodging and other accommodations may be more expensive than usual.
What is the best time to visit Provence for lavender?
The best time to visit Provence for lavender is unquestionably April to May or September to October when the weather is mild and the crowds have thinned.
What are the best places to travel in June in USA?
Top 10 best places to travel in June in USA
1. Boston, Massachusetts
2. Nashville, Tennessee
3. Block Island, Rhode Island
4. Portland, Maine
5. Charleston, South Carolina
6. Gatlinburg, Tennessee
7. Cannon Beach, Oregon
8. Ketchikan Alaska USA
9. San Francisco, California
10. Glacier National Park, Montana
---
Tell Us In The Comments About One Of Your Favorite Best Places To Travel In June!
Also, don't forget to book your personalized holiday package with Tripononline. Let us make your vacation a romantic as well as a dreamy getaway.