Lake Tahoe provides a terrific blend of casual and fine dining options. You may locate a nice table with a fantastic view of the lake at Christy Hill in Tahoe City or the charming Café Fiore–named one of the best restaurants in Lake Tahoe to enjoy in California–whether you're proposing or celebrating a special occasion. Reservations at the award-winning Stella at the Cedar House Hotel or the Zagat-rated Soule Domain are required for special events.
Visit Pianeta for rustic Italian food or Burger Me for organic burgers and wonderful lemonade if you just want to keep your meal low key but comforting after a day out in the snow. Both of these eateries are located in Truckee, California, the gastronomic center of the world. Visit the Cottonwood on the hill above Truckee for another great perspective of the railroad town.
Head to the Fire Sign Café in between Tahoe City and Homewood for omelets and delicious baked pastries for breakfast (or a hangover cure). If you're closer to the North Shore, a stack of pancakes from the Old Post Office Coffee Shop in Carnelian Bay will give you the crab loading you need for Tahoe's winter activities.
If you're on the South Shore, Rude Brother's Bagels is a must-stop for great bagels and coffee, as well as bagel sandwiches to take with you in your hiking backpack.
We apologize in advance for any cravings caused by this article. If you enjoy our blogs, make sure to follow us on Facebook and Instagram. Scroll down to learn more about the top 10 best restaurants in Lake Tahoe.
---
From Casual to Elegant, The Best Restaurants and Cafes in Lake Tahoe
Allow Tripononline to assist you when your options are limited. We'll point you in the right direction for the best restaurants and cafes in Lake Tahoe. We hope that our list of the 10 best restaurants in Lake Tahoe, helps you plan a fantastic trip to the city.
1. The Soule Domain
This family-run Tahoe classic has consistently topped local lists of the area's best romantic restaurants, making it the go-to location for customers looking to impress first dates while also enjoying a delicious dinner.
French-influenced recipes like pan-roasted chicken with mushrooms or champagne-poached sea scallops benefit from the use of fresh, organic ingredients. For about $7, you may get the decadent Queen of Sheba flourless chocolate double torte cake with fresh whipped cream filling.
A delectable selection of appetizers, salads, and desserts demonstrates the same commitment to fresh ingredients and traditional techniques. It is necessary to make reservations. The restaurant is Zagat ranked, and the chef's creations have earned multiple honors.
Recommended for Best Restaurants because: Soule Domain is a Zagat-rated organic restaurant with prices that won't empty your wallet.
Expert tip: The North Tahoe Truckee Action Guide has named the Soule Domain the "Best Place to Take a Date" for the past thirteen years.
---
2. Manzanita Lake Tahoe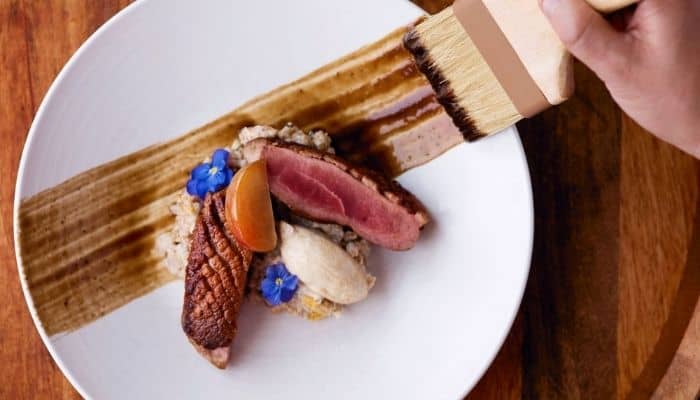 The Manzanita Lake Tahoe at the Ritz-Carlton at Northstar ski resort not only takes its name from the evergreen plant that graces the Tahoe mountains, but it also incorporates the beauty of nature into its recipes.
Many of the restaurant's dishes are sourced from local farms and ranches, and they are presented naturally and appealingly. Start with a Beet & Burrata salad with local beets, apples, celery, hazelnuts, and honey-rosemary vinaigrette, then choose between a 12-Hour Bordeaux Braised Shortrib or Hand-Made Tagliatelle with heirloom eggplant and fresh ricotta, and finish with a Pumpkin Souffle with spiced Anglaise and butter pecan ice cream for a romantic dinner.
Manzanita also offers breakfast and lunch, as well as a diverse wine, beer, and cocktail list. If you're not quite ready for a full supper, try the Pomme Frites, Durham Ranch Burger, or Drunken Goat Cheese and Prosciutto Pizza with rocket greens from the bar menu. One of the best romantic restaurants.
Recommended for Best Restaurants because: Manzanita sources organic, sustainable and locally grown meat and produce when possible.
Expert tip: Manzanita hosts private Chef's Dinners featuring unique ingredients and dishes on a regular basis.
---
3. Stella
Chef Jacob Burton's award-winning food is served at Stella, which is housed in the Cedar House Sport Hotel near Truckee. Many of the things on Stella's menu come from the Cedar House Hotel's gardens, and she uses simple ingredients to create dishes that are both cozy and inviting.
Before coming to the Cedar House, Chef Jacob Burton worked at the Lone Eagle Grille and the Big Water Grille, both in Lake Tahoe, Lake Madrone restaurant.
Pan-Seared Diver Scallops, Popcorn Polenta, and Roasted Mushrooms on a Micro Green Salad are among the appetizers on his menu, as are entrees such as Roasted Salmon with Crispy Yucca and Colorado Lamb with Fingerling Potatoes.
Marscapone Cheese Cake with Madrone Bark Syrup is one of the desserts. There is a fantastic wine range as well as after-dinner cocktails.
Recommended for Best Restaurants because: TripAdvisor recently awarded the Cedar House Sport Hotel a Certificate of Excellence.
Expert tip: Stella is only open for dinner from Wednesday to Sunday.
---
4. Burger Me
Burger Me, rated one of the top burger joints in the Lake Tahoe area and featured on Food Network's "Diners, Drive-Ins, and Dives," is located in Truckee's old town. They use only natural ingredients in their burgers.
These beauties include no growth hormones or toxins! Everything is recyclable, even the burgers and drinks, which are supplied in corn-based packaging. The retro-styled restored structure is fun to hang around in, but you can also get your burger to go and eat it outside in the fresh mountain air.
Burger Me offers grass-fed beef, lamb, bison, bacon, and other natural burgers, at Lake madrone restaurant.
Recommended for Best Restaurants because: Burger Me gets its natural burger beef from local farmers.
Expert tip: The sweet potato fries at Burger Me are the best in the area.
---
5. Christy Hill Lakeside Bistro
This restaurant, located in the heart of Tahoe City, serves superb food and has one of the nicest views of the lake. It's a tiny restaurant, so reservations may be necessary during peak times, but the staff is nice and helpful. One of the Best Restaurants in Lake Tahoe.
The menu is tiny, but it revolves around the changing seasons and the availability of fresh ingredients. They serve a decent selection of wines by the glass and bottle. Pork, lamb, shellfish, and pasta are among the meals prepared with fresh, local ingredients.
The Caesar Salad is a large and wonderful appetizer, and the numerous Ravioli dishes make a delicious main. Try the affogato with cranberry biscotti for dessert.
Recommended for Best Restaurants because: One of the nicest views of the lake is from Christy Hill.
Expert tip: Christy Hill has earned rave reviews by the Los Angeles Times, Wall Street Journal and Bon Appetit.
---
6. Cottonwood
Eat inside or on the lovely patio of the restaurant. They serve a wide variety of foods to tempt your taste buds. Choose from Jerk-spiced Fried Rock Prawns with Cajun tartar sauce or crispy Baby Back Ribs cooked with jerk spice and served with housemade barbecue sauce.
Order a Cheeseburger with Waffle Fries or a Braised Free Range Rabbit Cassoulet with Andouille sausage, garlic, rosemary, and white beans. The wine and beer menus are extensive here. One of the best romantic restaurants.
The Cottonwood, a casual restaurant, bar, and lounge with wonderful views of Truckee, charming décor, and lovingly-prepared Californian-American cooking, is loaded with skiing and train memorabilia from Truckee's days as a railroad town.
Recommended for Best Restaurants because: Throughout the year, the views of Truckee at night are spectacular.
Expert tip: On Friday and Saturday nights, the Cottonwood's bar may get full and raucous. This is hardly a romantic or quiet restaurant.
---
7. Fire Sign Café
Fire Sign Café is one of Tahoe's most popular breakfast restaurants, with glowing reviews from locals and travelers and lineups that often snake out the door on busy weekend mornings.
A dill and artichoke omelet, vegan eggs Benedict, a gouda scramble, and buckwheat pancakes topped with hot, freshly-made blueberry and raspberry sauce are just a few of the ante meridiem goodies on the menu.
Lunch is offered, however breakfast is accessible all day for those who are late risers. Seasonally, a lovely deck is accessible where you can eat breakfast and lunch while basking in the Sierra sunshine.
Recommended for Best Restaurants because: The Fire Sign's freshly made muffins and pastries are a must-try.
Expert tip: The Fire Sign is situated halfway between Tahoe City and Homewood, away from most of the town's crowds.
---
8. Café Fiore
This is the ideal setting for a romantic meal. This modest Italian restaurant is furnished with only seven tables for an intimate ambience and is decorated with white linens and glistening candles. During the summer, you can dine al fresco among the towering trees.
Try the Cappellini Bocconcini with meatballs, fresh tomato, and basil for a hearty supper. Filet mignon medallions in a green peppercorn cream sauce are Bistecca alla Veneziana. Try the handmade white chocolate ice cream for dessert.
Since 1992, the Café Fiore has been given the "Wine Spectator Award of Excellence" and has been featured in The San Francisco Chronicle, The Sacramento Bee, and Best Places To Kiss In Northern California.
Recommended for Best Restaurants because: Café Fiore is consistently ranked as one of the most romantic restaurants in Tahoe.
Expert tip: Because this is a small restaurant with only 7 tables, bookings are required.
---
9. Pianeta Ristorante
This lovely northern Italian restaurant is located in the heart of downtown Truckee. Pianeta provides many meal alternatives, including a full bar on the lower level and a dining area on the mezzanine. One of the best restaurants in Lake Tahoe.
Appetizers such eggplant bruschetta are served at the bar for a more relaxed lunch; alternatively, the main dining area offers an upmarket ambience with entrees like linguine with shrimp, mussels, and clams, or double-cut lamb chops in a minty pesto sauce.
The exposed brick and stone provide a warm, rustic atmosphere. With bottles and glasses from Italy, Northern California, Austria, and France, the wine list is outstanding.
Recommended for Best Restaurants because: Pianeta has a dark and comfortable environment that is ideal for an aprés ski lunch.
Expert tip: The Caesar salad is excellent. Don't be hesitant to request the entire anchovy on top.
---
10. Gar Woods Grill and Pier Restaurant
Gar Woods on Lake Tahoe's West Shore is known for its beautiful pier and wooden boats, but it also boasts a delicious restaurant and a lively bar. The views of Lake Tahoe and the Sierra Mountains are spectacular because to the floor to ceiling windows, big deck, and balconies.
Hand-cut steaks, fresh Pacific seafood, pizzas, pasta, and salads are the mainstays of the menu. The wine selection features more than a dozen wines by the glass from some of California's best and most well-known vintners.
Pomegranate Glazed Pork Ribs, Shrimp & Lobster Bisque, Filet and Scampi, Australian Lamb Chops, Seafood Tagliarini, and White Chocolate Snickers Cheesecake and Butterscotch Crème Brule are among the dishes on the menu.
Gar Woods' distinctive cocktails include the Wet Woody, which is made with rum, peach schnapps, cranberry juice, orange juice, pineapple juice, and sweet and sour mix.
Recommended for Best Restaurants because: The deck at Gar Woods is a nice place to hang out and drink a Wet Woody in the summer and fall.
Expert tip: At Gar Woods, the lobster bisque is a must-try.
---
You Might Also Like
---
FAQs About Best Restaurants and Cafes in Lake Tahoe
What food is Lake Tahoe famous for?
Signature dishes include eggs benedict and potato pancakes. The Tahoe Brewfest in June, the Brews, Jazz & Funk Fest in August, and the Lake Tahoe Food & Wine Festival in September are just a few of the food, wine, and beer festivals in the area.
What part of Lake Tahoe is the most popular?
Lake Tahoe Towns, Resorts & Communities
1. Meeks Bay.
2. Heavenly.
3. Zephyr Cove.
4. Glenbrook.
5. South Lake Tahoe/Stateline.
6. Meyers.
7. Kirkwood.
8. Sand Harbor.
What is the prettiest part of Lake Tahoe?
The most beautiful portion of Lake Tahoe is Emerald Bay. It's towards the lake's southern end, and there are vista sites along Highway 89 where you can see the gorgeous island in the bay.
Which side of Lake Tahoe is better?
The California side may be your best pick if you're looking for a more tranquil, relaxing, back-to-nature experience. Trails dominate the landscape, but there are plenty of other outdoor activities to enjoy, as well as generally warmer water for lake bathing.
How many days do I need in Lake Tahoe?
If you are short on time, you can visit Lake Tahoe in two days; if you have more time and money, you can visit in four days. However, to get the most out of Lake Tahoe, we recommend staying for at least three days.
---
Tell Us In The Comments About One Of Your Favorite Best Restaurants in Lake Tahoe!
Also, don't forget to book your personalized holiday package with Tripononline. Let us make your vacation a romantic as well as a dreamy getaway.