Traveling might be stressful if you don't have the best face moisturizers with you.
Which can be seen on your face as well!!
It's nearly impossible to avoid your skin drying out while traveling. Thankfully, there is an easy solution! Bringing some moisturizer and sunscreen with you on your trip will do wonders for your skin.
Because recycled aircraft air tends to absorb every last drop of moisture from your skin, we recommend putting it in your carry-on so you may use it while flying.
But don't worry, we've got you covered.
LEZZGOO!!
---
Things To Consider While Buying The Best Moisturizer For Face
It's a good idea to start with moisturizers because they're usually made to meet the needs of various skin types.
The most common skin types are:
Dry (will benefit from a heavier, oil-based moisturizer)
Oily (will benefit from lighter, water-based moisturizers)
Mature (will benefit from oil-based moisturizers to preserve moisture)
Sensitive (will benefit from soothing ingredients, like aloe, that won't be harsh on the skin)
Normal/Combination (will benefit from a lighter, water-based moisturizer)
Consider how your skin feels after a shower if you're not sure what skin type you have. If your skin feels tight, dry, or flaky, you probably have dry skin. If your skin feels smooth and glossy, you probably have oily skin. The appearance and feel of combination skin is a mix of the two.
Once you've figured out your skin type, look at the labels on any products you're interested in. They might identify which skin types they're best for.
While the basic purpose of a moisturizer is to hydrate the skin, it can also be used to cure breakouts, ease irritations, level out skin tone and texture, and smooth fine lines and wrinkles.
1. Ingredients
Examine the ingredient list as well. The Food and Drug Administration (FDA) does not need cosmetics to be authorized before they can be sold. They must, however, declare all components so that customers may make informed judgments.
If you're unsure about a product's ingredients, look them up in the EWG's Skin Deep database.
2. Weather Conditions
Which face cream is best for your skin depends on the weather in your city and at the time of purchase. To keep the skin hydrated and supple throughout the winter or cold, dry weather, apply thick face cream.
Using the same texture in hot or humid weather, on the other hand, may clog pores and trigger outbreaks. Instead, at this time, a mild lotion or moisturizer might be more acceptable.
3. SPF Addition
Look for a face cream with sunscreen in it if you're looking for a morning or daily face cream. An SPF of 30–50 is good depending on how much time you spend outside.
Before wearing make-up, most women only use one product on their faces, and they regularly forget to add sunscreen. SPF-containing face creams can help protect the skin while also being quite convenient.
It's crucial to remember that SPF is important not only when you're outside but also when you're indoors. Light reflections or sun rays from the window can potentially injure your skin. Sunscreen can help protect your skin while also making it look younger and wrinkle-free if you apply it on a regular basis.
If you expect to spend the majority of your time at home, an SPF 15 face moisturizer or cream will suffice. However, don't forget to apply sunscreen before going outside!
4. Enriching Vitamins
Why not choose for a face cream that can help repair and smooth your skin while also delivering superior hydration? Vitamin A and E face creams are good for the skin since they help to slow down the ageing process by avoiding wrinkles and fine lines, minimizing blemishes, and encouraging the creation of healthy skin cells.
So look for a cream that gives more than just hydration. Because huge companies are always introducing new beauty things, you don't have to spend a lot of money every time. Simply said, make sure you choose the right product.
5. Price
The majority of us mistake product price for quality, and we seek out the most expensive solutions first. However, this isn't always the case.
Leading brands from throughout the world produce high-quality goods at a range of prices. Choose a face cream that fits your budget and meets your skin's needs. When it comes to trying out a new brand, this is especially true.
---
What Are The FDA Guidelines For Cosmetics?
What sets a high-priced, nicely packaged product apart from the $10 store aisle version? In most cases, not much. Don't be fooled by price tags into thinking that quality is dictated by cost. It's all about the individual parts. A good moisturizer will keep you protected and will not include any harmful ingredients.
It's tough to tell which cosmetics are safe to use on your face because the Food and Drug Administration (FDA) doesn't have a good hold on them. While cosmetics do not require FDA approval before being sold, there is a silver lining: the FDA permits companies to list chemicals on labels "to assist customers to make informed purchasing decisions."
On the other hand, reading the ingredients can be as challenging as interpreting ancient language. Knowing what's in the bottle or jar can help you figure out what's in it before you apply it on your face.
---
11 Best Moisturizer For All Skin Types That Will Make Your Skin As Smooth And Elegant As You Desire
We've compiled a list of some of the best moisturizers for the face that will keep your skin protected while traveling from one location to another based on extensive study and consumer feedback.
This Neutrogena gel moisturizer formula keeps the skin hydrated for 48 hours, giving it a smooth and supple appearance.
It has an oil-free, non-comedogenic composition that absorbs swiftly like a gel for Neutrogena Day Cream. It is one of the best face moisturizers.
Long-lasting and powerful moisturizing power quenches the skin instantaneously. A product to buy if you want to keep your skin nourished.
»Also Read: The 10 Best Dry Shampoo For Travel That Will Keep Your Hair Fresh and Clean Without a Wash [2022]
---
This Olay Regenerist cream moisturizer should be used as the final step in your regular skincare routine. The skin is left nourished and moisturized for a long time. It is the best moisturizer for all skin types.
It also helps to keep your skin looking young by correcting the appearance of ageing skin and assisting in surface cell regeneration. This is an incredible purchase to make right now for bouncy, firm, and younger-looking skin.
»Also Read: 11 Best Backpack Purses For Women To Carry Everything You Need While Travel
---
The triple ceramide moisturizer in our Real Barrier product reinforces the skin barrier, which protects against external irritants. A skin lipid structure is present in the Multi-Lamellar Emulsion.
Because it absorbs quickly, it causes less irritation and allows rough skin to become silky and healthy without leaving a sticky residue.
Maintains skin moisture for 48 hours and can help to repair skin damage caused by external irritation after 5 days of use. This is an excellent moisturizer to use straight away.
Must Read: 11 Best Travel Jeans For Women To Make Your Trip More Comfortable And Stylish [2022]
---
This Cetaphil moisturizer binds water to the skin, stops moisture loss to hydrate, and protects the skin from dryness, providing fast and long-lasting 24-hour hydration.
The non-greasy, fragrance-free, paraben-free product absorbs rapidly and is ideal for use on hands, feet, and other body regions. This is a fantastic purchase that is suitable for all skin types and best moisturizer for all skin types.
»Also Read: 11 Best Cotton Dresses With Pockets Ideas to Make Your Trip More Enjoyable [2022]
---
This SPF-protected CeraVe moisturizer is a nourishing face lotion that distributes easily, absorbs rapidly, and leaves a non-greasy finish.
Is it Phthalate-free, and does the MVE Technology keep you hydrated all day? Three vital ceramides are included in the formula to help restore and maintain the skin's natural barrier. This one must be in your shopping if you have dry, sensitive, oily, or acne-prone skin. It's also one of the best moisturizers for oily skin.
»Also Read: 15 Best Travel Leggings That Are Both Fashionable And Comfortable [2022]
---
The moisturizer from La Roche-Posay works in two ways: it replenishes moisture for up to 48 hours and helps restore the skin's natural protective barrier after one hour. This one is paraben-free, fragrance-free, and oil-free, making it ideal for sensitive skin and the best moisturizer for all skin types.
The cream hydrates, soothes, and nourishes the skin, and it absorbs quickly to provide immediate relief. An appealing purchase that will make your daily routine more comfortable.
»Must Read: The 10 Most Comfortable Flats That Look Like Shoes That Are Perfect For Any Trip [2022]
---
Being a better moisturising lotion that would hydrate you twice as much throughout the day. With the radiance that it imparts, the skin feels soft and springy.
It's best to use it twice a day to maintain your skin looking fresh and smooth all the time. This is a fantastic product that you should purchase right immediately. It's also regarded as one of the best facial moisturizers for dry and sensitive skin.
»Also Read: Top 21 Trendy Summer Dresses For Travel [2022]
---
CETAPHIL Daily Oil-Free Hydrating Lotion is formulated with a unique blend of moisturizers to help prevent skin from becoming dry. This hydrating lotion absorbs quickly and seals in moisture, leaving your skin soft and nourished for up to 24 hours.
With the ability to store 1000 times its weight in water, hyaluronic acid is a potent moisturizer and a vital component of skin. This substance helps your skin cells and connective tissues retain water, resulting in immediate and strong hydration.
»Must Read: 10 Best Packable Sun Hat For Women That Won't Be Wrinkled in Your Luggage [2022]
---
This one hydrates and nourishes the skin, keeping it clean, smooth, and balanced. Because it is lightweight, it purifies the skin, feeds healthy bacteria, and smoothes and softens the texture.
This one is safe for all skin types and maintains a balance of keeping the skin radiant and smooth all day long due to its lack of smell and artificial colors. This is a fantastic product that you should add to your cart because it is one of the best moisturizers for beautiful skin and the best moisturizer for all skin types.
»Also Read: Top 11 Best Amazon Fanny Packs For Travel That Is Ideal For Carrying Items For Quick Access [2022]
---
This skin is extremely sensitive. Burt's Bees facial moisturizer lotion gives skin a radiant, moisturized appearance without producing irritation or redness, leaving skin feeling rejuvenated.
It's made with rice extracts and aloe vera, so it won't clog pores and will leave your skin glowing on the inside and out. It is a worthwhile purchase because it provides a spa-like facial care regimen that will leave you with healthier skin.
»Must Read: 11 Best Cool Sunglasses For Travel That Aren't Expensive [2022]
---
The cream from Instanatural offers skin a youthful glow and has a blend of the greatest components to provide unrivalled antioxidant benefits to all skin types.
Vitamin C reduces wrinkles, fine lines, and dark spots while also caring for the skin with deep-penetrating moisture that clears dry patches and flaking.
It comes with an ideal hydration pack that replenishes vitamins and minerals while also nourishing the skin. This is an excellent item to do right away.
»Also Read: The 11 Versatile Closed Toe Sandals For Women And Men That Will Make Your Trip Comfortable [2022]
---
You Might Also Like
---
FAQ's About Best Face Moisturizers
What is the number one rated facial moisturizer?
Olay Regenerist Micro-Sculpting Cream ($28.99; ulta.com or $23.44; amazon.com) is the best overall face moisturizer. Why should you buy it? In our studies, we discovered that Olay Regenerist, a dermatologist favorite, is the best face moisturizer overall.
Are moisturizers good for your face?
Yes, A daily moisturizer is required to keep your skin's moisture barrier intact and to protect it from environmental damage.
Why Use Moisturizer?
Moisturizer acts as a barrier for your skin, keeping it nourished and healthy. While there is some controversy about whether or not moisturizer is necessary in the first place, most experts recommend using it every day. The Mayo Clinic recommends using a moisturizer that fits your skin type and makes your skin seem and feel smooth, as well as eating a nutritious diet and avoiding stress, for a good skin care routine.
What's the difference between day cream and Moisturizer?
Day creams and night creams, on the whole, contain more oil-based compounds, such as nourishing peptides and collagen-building agents, to rebuild and restore the skin. Skin creams have a thicker viscosity as a result of this, but they penetrate into the skin more faster than a regular moisturizer.
---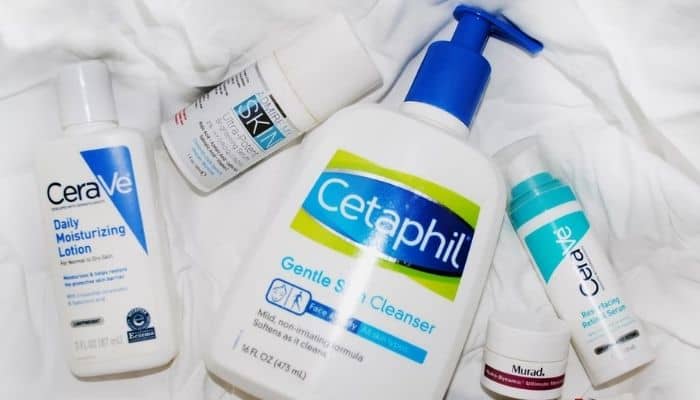 ---
Tell Us In Comments As Per You Which One Best Moisturizer For Face!
Also, don't forget to book your personalized holiday package with Tripononline. Let us make your vacation a romantic as well as a dreamy getaway.