Hey Readers!
Fanny packs, whether you like them or not, are one of the best bags to travel with. These useful carryalls are not only large enough to handle trip essentials like your phone, passport, and wallet, but the best fanny packs for travel also allow you to do so hands-free, allowing you to focus on other important tasks like snapping the ideal travel photo or enjoying a gelato while exploring.
Didn't we mention how adaptable they are? You can wear the best fanny pack around your waist, throw it over your shoulder as a shoulder bag, or carry it as a crossbody bag for a more modern, fashion-forward look.
---
What Are Fanny Packs?
These bags, which are also called waist bags, belly bags, belt bags, fannies, or fanny packs, are small and are tied to a belt that is usually knotted with a buckle. You can carry these bags across your body or wear them around your waist.
---
Things To Consider When Purchasing The Best Fanny Pack For Travel
Fanny packs nowadays are much more than just a pouch and a strap. These essential accessories come in a variety of sizes, colors, and forms. Some also have built-in earphone holes.
When buying a best fanny pack for your activities, there are a few key features to keep in mind.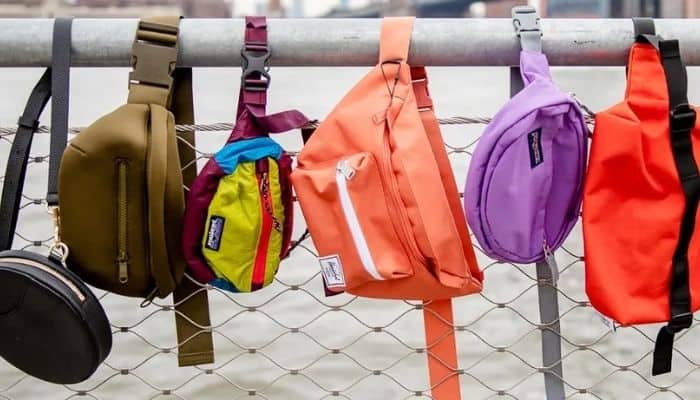 1. Size
When buying a fanny pack for travel, the size is an important consideration. You'll need a compact fanny pack for workouts that can just hold the essentials.
You'll need a larger fanny pack to carry sunscreen and snacks if you're going on a longer trip, such as hiking or visiting a festival.
2. Material
The material of your fanny pack will influence how you utilise it. Some of the best hiking fanny packs are made of water-resistant nylon fabrics. These could be handy for both riding and jogging.
A transparent plastic fanny pack is a good alternative if you require a fanny pack for a stadium activity.
For everyday use, look for a fanny pack constructed of canvas fabrics. If you want to up the ante on style, choose one that has a satin or silk appearance.
3. Adjustable Straps
Most fanny packs include an easily adjustable strap. You can wear your fanny pack in a variety of ways.
As in the conventional style, you can wear it around your waist with the pouch in front or on your hand. A new way to style your fanny pack is to wear it cross-body. The pouch can be worn on your back like a one-strap backpack or kept in the front pocket for easy access.
4. Compartment 
Organization is essential when it comes to your fanny pack. If you know where all of your essentials are, you can stay on the move. Multiple compartments could be beneficial if you're carrying a lot of goods.
On the other hand, some trendy bags only have one front pouch. This may fit for everyday purposes, but it is unlikely to suit for sports or travel.
5. Price
The price should be appropriate to the level of service provided by the fanny pack company. Check both offline and online before purchasing. When you buy something online, you may be able to receive a decent deal.
---
These Are the Best Fanny Packs to Shop
The Amazon fanny pack is being brought back by fashion designers. Fanny packs, also known as belt bags, were indeed considered a cheap travel accessory but are now considered high-style.
To assist you in finding your perfect match, we've compiled a list of eleven options that customers are raving about. There's a best fanny pack for everyone on our list, whether you want a stylish fanny pack to quickly boost your trip outfits or a sporty version to use when trekking or running.
This LOVEVOOK travel fanny pack is as cute as it is functional, with plenty of space for your phone, purse, passport, and other essentials.
This bag comes with two styles of straps that can be carried around your waist or over your shoulder. Pull the chain inside the bag to turn it into a more classic purse for a night out. It's a lovely waist bag for women.
Also Read: The 11 Best Sling Bags For Travel Will Make You Comfortable On Your Trip
---
If you intend on exercising out while on your trip, this sporty stomach fanny pack is built specifically for trekking and jogging.
This ultra-thin Jappi sports accessory won't bounce around while you're running, and it can contain your phone, cash, credit cards, and even a headphone jack. It's also completely waterproof and keeping your items secure from sweat. It falls within the category of the best amazon fanny packs.
---
Herald fashion's elegant and supreme fanny pack is yet another exciting fanny pack with a little flair. This versatile bag has a cheerful and elegant style that may be worn from day to night. It's a fanny pack made of leather.
Also Read: The 12 Best Crossbody Bags For Travel That Make Trip Easy & Comfortable
---
This bold KENDALL + KYLIE designer travel fanny pack for men and women makes a statement in a brilliant yellow color. This fanny pack can hold a lot of stuff attributed to two additional compartments on the outside and inside.
Additionally, the strap could be extended to allow for over-the-shoulder wear. It's a stylish waist bag for both men and women.
---
It's time to flaunt your inner fashionista now that you've accepted the fanny pack's convenience. With this Floral Fanny Pack from designer SoJourner, you can carry not just your phone but also a small tablet or notebook. This women's waist bag adds a touch of elegance to any look.
Also Read: The 11 Best Duffel Bags For Travel That Can Carry All Of Your Essentials
---
If you can't seem to find a fanny pack that matches your style. There are other adorable fanny packs urban outfitters on Amazon, like this sleek and slim burgundy belt bag, this vintage-looking chocolate leather waist bag, and this one with a more minimalist style.
---
It's a pretty fashionable Adidas originals national waist pack. This bag can be used for a variety of things. This fanny pack includes two pockets: a main compartment with a zipper for protection and a little front pocket. It also features Adidas branding on the front, which is really stylish.
Also Read: Top 11 Best Laptop Bags for Travel That Is Ideal For Carrying Laptop
---
If you're looking for a unique and cute fanny pack, look no further. This women's waist bag is so dazzling with neon PU leather that it flashes a variety of sparkling colors depending on where you are, making you a sight to behold.
---
If you're not sure how long a trend will continue, this Lovely Tote bag is a safe in terms of style, but it's also a fantastic Amazon fanny pack gateway.
With its modest black color and compact size, yet large enough to contain your things, this basic hip bag belt is a perfect way to add an extra pocket to an attire that would not have one.
Also Read: The 10 Best Insulated Cooler Bags Excellent for Picnic Packing
---
This fanny pack supreme is created for everyday usage. It has three major zippered compartments, the first of which has an adjustable keyring, the second of which is the main compartment, and the third of which is on the backside where we can store our valuables when travelling.
This anti-theft fanny pack is suitable for both men and women. It also comes in a variety of colors, looks quite nice, and the correct size of this bag makes it very comfortable.
---
Made of a durable and long-lasting fabric. The zippered front accessory pocket is ideal for keys, ids, mobile phones, and other small items. Back pocket for stashing your valuables in privacy. It's a trendy and lightweight fanny pack.
Also Read: The 10 Best Travel Purses For Your Next Trip
---
FAQ's About Best Amazon Fanny Packs
What fanny pack should I buy?
These Are the Best Fanny Packs to Shop
1. LOVEVOOK Fanny Pack
2. JAPI Running Belt | Fanny Pack for Women Men
3. Herald Fashion Elegant Quilted Leather Fanny Pack
4. KENDALL + KYLIE Olympia-Yellow
5. SoJourner Floral Fanny Pack
6. JASGOOD Women's Leather Belt Fanny Pack 
7. Adidas Originals Unisex Fanny Pack
8. Holographic Fanny Packs for Women By LIVACASA 
9. Women Fanny Pack By The Lovely Tote Co
10.Everest Signature Waist Fanny Pack
11. Super Lightweight Fanny Pack For Travel By Tinyat 
Why are fanny packs called fanny packs?
In the 1950s, the British coined the slang term bum-bag to refer to the ski-slope bag. It was renamed a fanny pack by Americans, and it took on a more sporty appearance.
What is the fanny pack called now?
A moon bag, also known as a belly bag in American English, a belt bag, waist bag, or fanny pack in the United States, or a bum bag in British English, is a small fabric pouch worn around the waist with a strap across the hips that is normally secured with a buckle.
Is a fanny pack worth it?
Fanny packs are useful where your pockets are too small and carrying a full-fledged backpack or handbag is too difficult. If you're going for a walk, going to a theme park, or going to a music festival and need to keep your belongings near by, fanny packs keep your hands free while carrying your essentials.
Do you wear fanny pack in front or back?
You can wear it around your waist with the bag in front or to your side, like in the classic form. Wearing your fanny pack cross-body is a fresh way to style it. You can carry the pouch on your back like a one-strap backpack or keep it in the front for quick access.
What do you keep in a fanny pack?
1. Mobile
2. Credit And Debit Card
3. Earphones
4. Money
5. Chocolates
6. Lipsticks
7. Keys
8. I.D.s
9. Small items
---
Tell Us In Comments About One Of Your Favorites Amazon Fanny Packs For Travel!
Also, don't forget to book your personalized holiday package with Tripononline. Let us make your vacation a romantic as well as a dreamy getaway.
Last update on 2022-10-03 / Affiliate links / Images from Amazon Product Advertising API