Hey Readers!
What to Wear to Niagara Falls? Niagara Falls is on the border between Canada and the United States. These well-known waterfalls in the city, known as "Honeymoon City" draw 14 million tourists every year.
Niagara Falls is one of the most visited places in North America. One of those places you have to see for yourself to understand.
What do you bring on this trip of a lifetime? It's not a trip to the city or a trip to the woods. It's okay if you don't know what to bring with you to Niagara Falls.
For many people, going to Niagara Falls is something they will only do once in their lives. You'll want to make sure you know what to bring so you don't waste time going from store to store looking for what you need.
Based on a lot of research, let's make some suggestions. This will help you be more prepared and get the most out of your time in Niagara Falls.
---
Niagara Falls – What To Pack – Clothing And Supplies Tips
One of the most popular places to visit in Canada is also one of the hardest places to pack for. There are many different sports you can do in Niagara Falls, and the weather can be just as varied.
Once you know what the weather will be like, you can focus on making a travel capsule wardrobe that will fit in a carry-on suitcase with the help of packing cubes.
Even though you can go any time of year, the summer is the busiest. Only the most daring people go in the winter.
1. Layers Help You Stay Warm Or Cool!
In the fall and spring, the weather in Niagara will change quickly, so bring layers so you can change your outfit as the weather does.
A waterproof trench coat and scarf are two things you need to get from a sunny afternoon to a cold evening.
It's also important to remember that the area around Niagara Falls is very "misty," and the humid air can feel much cooler than the air just one street over.
Even on a sunny, warm day in Niagara, it can be much colder near the falls. This is why you should bring clothes that you can layer.
In the winter, it's especially important to dress warmly and wear layers that are waterproof on top. Here are some other ways to stay warm in cold weather. It would be very cold at the falls, and you don't want to turn into a "icicle" by not wearing the right clothes.
Merino wool underlayers are a great way to stay warm and dry. Wear them under your regular clothes to stay warm and stylish.
Many tourists avoid the cold of winter in favor of the heat and humidity of summer, when they can wear shorts and tanks that are light and wick away moisture. Don't forget to wear sunscreen and a hat this time of year!
»Also Read: The 10 Best Insulated Cooler Bags Excellent for Picnic Packing [2022]
---
2. Beautiful Dress
Last but not least, don't forget to bring some clothes for the nightlife in Niagara Falls! Dress up in heels and a cocktail dress if you want to eat at one of the great restaurants with a great view of the falls.
After dinner, go to one of the nightclubs for drinks and dancing. Many of them have dress codes, so you can't just show up in jeans and sneakers.
»Also Read: The 12 Best Travel Hoodies For Men And Women To Carry On Trip [2022]
---
3. A GoPro Or Waterproof Camera
If you want to see the Maid of the Mist, which you should, you'll need a waterproof camera. The boats get very close to the base of the falls, and everything quickly gets wet.
Don't even think about bringing your regular camera or phone, because the water will quickly ruin them. They give you high-quality raincoats, so at least you'll stay dry!
»Also Read: The 10 Best Face Masks For Travel To Wear On Your Next Trip [2022]
---
4. Pack Active Clothes For Fun Activities
Niagara Falls and the area around it, Niagara-On-The-Lake, have a lot of outdoor activities, from mini-golf to bike wine tours.
Pack clothes that will let you move around freely and keep you warm for a long time outside.
Even though you don't have to wear workout clothes to feel relaxed, choose classic pieces that are flexible enough to be worn when riding a bike but not so much when tasting delicious wine.
Change how you dress for the season you're in. During the cooler months, you may need outerwear that is warm but not too heavy. You might want to wear a hat and a loose long-sleeved shirt in the summer to protect yourself from the sun.
»Also Read: The 11 Most Comfortable Headphones to Carry on Your Next Trip [2022]
---
5. An Umbrella Or Hooded Jacket Will Keep You Dry
As I already said, it rains a lot in the area around Niagara Falls. Only 30 seconds will pass before your hair is wet. If you wait another minute or two, you'll look like you just got out of the shower.
If you want to keep your hair dry, wear a jacket with a hood. You should also carry an umbrella to keep the rain off of you.
Because of the sun, you might not need a waterproof jacket in the summer, but you will need one in the winter, and it will also come in handy when the weather gets cooler in the fall and spring.
»Also Read: The 11 Best Travel Accessories For Men To Make Your Traveling More Comfortable [2022]
---
6. Gorgeous Outfit For A Day Time
There are many world-class wineries in Niagara-on-the-Lake, so I really think you should spend some time there instead of in the touristy area around the Falls.
Bring a dress or something else as beautiful. Most of the time, this is best done in a midi dress.
The weather is usually a few degrees cooler, and the beautiful views are the perfect reason to dress up for the day.
»Must Read: The 10 Most Comfortable Flats That Look Like Shoes That Are Perfect For Any Trip [2022]
---
7. Hair Oil Will Keep You Looking Great During the Day
Since that annoying shower will ruin your perfectly curled hair, bring a small bottle of hair oil to use every morning to keep your hair looking picture-perfect while you see the sights.
»Also Read: The 9 Best Portable Chargers For Travel To Make Your Life Easier While Traveling
---
What to Wear to Niagara Falls? Clothing, Shoes, And Weather Gear
At Niagara Falls, you can wear casual clothes, and you'll be walking a lot, so bring clothes and shoes that are easy to move in. It can be painful to walk around in sandals, especially if they get wet.
What you bring depends on the season, but in either case, you can leave your formal clothes at home. Spray from the falls is always a given, and just standing near them will get you very wet.
Also, please remember that November through March are the coldest months in Niagara Falls, when the average temperature is between 21 and 39 degrees Fahrenheit.
A lot of snowfall in the winter. Niagara falls weather in April is very cold. The hottest months are June, July, and August, when average temperatures range from 59 to 77 degrees Fahrenheit. Niagara falls weather in October is very cold.
When you go to "Cave of the Winds" or "Maid of the Mist," it's helpful to have a soft, water-resistant jacket, but both places give you a hoody to carry.
The "Cave of the Winds" even gives you a free pair of sandals. You'll want to wear water shoes or these cheap sandals on the "Maid of the Mist" as well, since it's no fun to walk around in wet socks or shoes.
Many people say you should bring rain gear, but airlines have limits on how much you can bring and it might not be worth it. Remember that you will probably get wet no matter what you wear, so choose something that dries quickly. If wet clothes bother you, bring rain gear with you.
Since short storms happen often, you might want to bring a folding umbrella. If you're going in the winter, bring a warm coat, hat, and gloves. In the Niagara area, it gets very cold and snows a lot.
Clothes To Pack
[wptb id=1217]
Medical Supplies, Toiletries, and Miscellaneous Items.
Electronics To Pack
[wptb id=1219]
Make sure you're carrying a backpack. You'll probably want to take a lot of photos, and some of the things to see involve water.
Try not to bring anything that could get wet. Just make sure you don't carry too much, especially if you're going to be walking.
Photo Equipment  
When you go to Niagara Falls, you need a camera, and a disposable one won't do. Bring a camera that is waterproof or at least a case that is waterproof. If you have a point-and-shoot camera, you can use a plastic sandwich bag.
The nighttime falls are beautiful, but it's hard to get a good picture while holding your camera and phone with a mini tripod for the phone, so bring a tripod or at least a mini tripod for phone.
Since you'll be taking a lot of pictures, don't forget to bring extra batteries (or a charger) and an extra SD card.
Luggage
No matter what you want to do when you go to Niagara Falls, these bags are great for a short or long stay.
---
You Might Also Like
---
FAQ's About What To Wear To Niagara Falls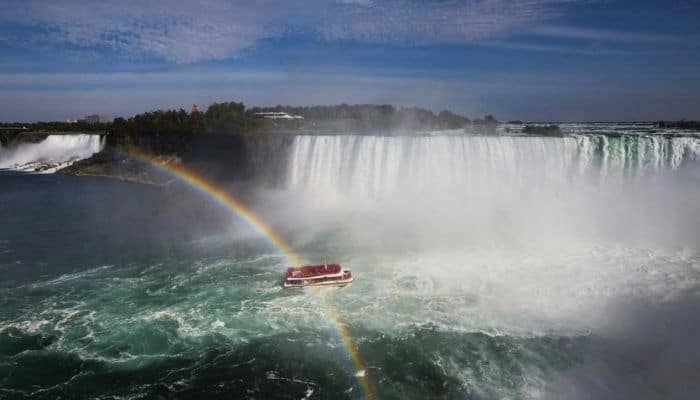 How should I dress for Niagara Falls?
You should definitely bring warm clothes, such as coats, hats, gloves, scarves, and boots that won't get wet. If you want to stay safe on your trip to the falls between December and March, you should cover up as much as possible.
Do your shoes get wet at Niagara Falls?
Spraying from the falls is always a given, and just standing near them will get you very wet. Prepare to get wet: the Maid of the Mist takes you right under the falls.
What's Special About Niagara Falls?
What makes Niagara Falls so amazing is the amount of water that flows over it. Most of the tallest falls in the world don't have much water going over them. The height and size of Niagara Falls are what make it so impressive.
Do you get wet on Maid of the Mist?
Since the 1840s, these boats have been taking people to and from the base of the falls. Prepare to get wet: the Maid of the Mist takes you right under the falls, but rain gear is provided, and many people say this is one of the best ways to see the beauty of Niagara Falls.
What To Wear To Niagara Falls Weather In October?
If you're going to visit Niagara Falls weather in October, you'll need a scarf for sure. Bring a raincoat with a warm layer on the inside and a waterproof layer on the outside. Bring a scarf or muffler, a cardigan or sweater, gloves, and a cap for the cooler evenings. Bring a camera and mini tripod for phone.
---
Tell Us In The Comments As Per Your Opinion On What To Wear To Niagara Falls!
Also, don't forget to book your personalized holiday package with Tripononline. Let us make your vacation a romantic as well as a dreamy getaway.