Lima offers a variety of sightseeing options: there are so many attractions to explore. Depending on where you are staying, we have a few suggestions for you. In fact, you could probably stay in Lima for much longer and yet not run out of best sightseeing in Lima, Peru.
If you're in the Downtown area, take a stroll down the old Lima streets, beginning at the Plaza Mayor, where the Spanish conquistadores founded Lima: a few blocks away are the majestic San Pedro church and San Francisco church and convent. There are numerous instances of historic colonial architecture there, but if you want to continue walking, go to Barrio Chino, where you may complete your tour while eating a Chinese-style supper.
The Magic Water Circuit is located on the way back to Miraflores; while in Miraflores, walk to the Costa Verde marina for a view of the beaches and paragliders who practise their landings there. Following the marina will lead you to Barranco, a historic artist's town with some lovely sights such as the "Puente de los Suspiros."
Outside of Miraflores and Barranco, there's still much of Lima to explore, such as Pueblo Libre, a historic district with traditional buildings, museums, and charming little spots like its own Plaza Mayor.
With so unique things to do in Lima and tourist attractions in Lima, Peru, it can be overwhelming for a Lima learner. This extensive list includes the best sightseeing in Lima that visitors will not find anywhere else.
If you enjoy our blogs, make sure to follow us on Facebook and Instagram.
Keep reading for more on the 10 unique things to do in Lima.
---
Top Tourist Attractions in Lima, Peru
Lima merges the past with the present, making it an intriguing city to visit. It was home to ancient cultures long before the Spanish arrived. The capital and greatest city of Peru is a great destination to learn about pre-Columbian culture, when humans were sacrificed to placate the gods. The city is brimming with museums, some of which are housed in colonial structures and others in modern structures.
Visitors who want a break from the antiquities might take a walk along the beach or eat traditional Peruvian food and Peruvian Tea at a nearby stand. Visitors can also enjoy a disco or a magic performance involving dancing water fountains when the night falls.
We hope that our list of the 10 top tourist attractions in Lima, Peru helps you plan a fantastic trip to the city.
1. Plaza Mayor
Lima's Plaza Mayor is the most essential sight to view when it comes to the city's history and contemporary daily life… and lifestyle: Lima was founded in 1535 by Spanish adventurer Francisco Pizarro on land that had previously belonged to an indigenous Taulichusco chief.
Lima's Cathedral, the Archbishopric Palace, the Government's Palace, and the Lima Municipality, as well as an ancient brass water fountain, are all worth seeing today. It's a wonderful place to start your city explorations. In 1821, the Peruvian independence was declared here, adding to its historical significance.
In addition, there are some excellent eateries in the area. One of the must-see tourist attractions in Lima, Peru and one of the unique things to do in Lima.
Take a trip in one of the many calesas (horse-drawn vehicles) that round the plaza. Other adjacent sights, such as the more modern Plaza San Martin, are a short walk away (along the Jiron de la Union).
---
2. San Francisco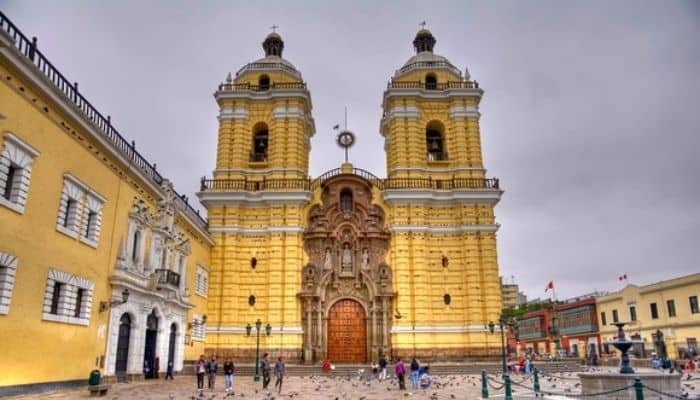 This yellow-and-white 17th-century edifice, which has witnessed most of Lima's historical occurrences and withstood a few big earthquakes, is by far the most visited place in the city. The former Saint Francis Convent now contains a beautiful religious art museum with works by Francisco Zurbar n and other well-known Spanish artists. One of the best sightseeing in Lima.
There's a large, gorgeous church with Moorish-style carved ceilings erected in the Colonial Baroque style; the aforementioned museum; and the interesting catacombs, which house 75,000 dead. Tickets are available at the entrance, and you will have to wait a little time for an English-guided tour.
This cathedral is home to hundreds of pigeons. They build their nests and relax on the façade, and if you enjoy birds, you may purchase small bags of bird food outside. The optimum time to take pictures is between 3 and 5 p.m. One of the must-see tourist attractions in Lima, Peru and one of the unique things to do in Lima.
---
3. Puente De Los Suspiros
It connects two Barranco streets, Ayacucho and La Ermita, and was inaugurated in 1876. It is a historic site since it survived the destruction wrought by the War Of The Pacific (against Chile) in 1881. The name alludes to the numerous romances that have begun here.
This bridge even withstood a major earthquake in 1940. This location has a well-known legend: if someone sees it for the first time and can traverse it without breathing, their desire will be granted. It connects the main Barranco square with the Mirador de Barranco and its modest and quiet bars, and it is still a popular area among locals and visitors today.
A terrific spot for a stroll with friends or excellent company; it's also a beautiful sight at any time of day or night, and a must-see for photographers. One of the must-see attractions in Barranco and one of the unique things to do in Lima.
---
4. Barrio Chino – Calle Capon
Due to the ancient name of this street during the Vice Royalty period, Lima's China Town is known as "Barrio Chino" and even "Calle Capon." In fact, Lima is home to South America's largest Chinese descendants community, and its most famous feature is the red Chinese Arch, which was built at the city's entry in 1971 to commemorate the friendship between China and Peru.
This is now a Chinese-themed avenue with several "chifas" (Peruvian-Chinese restaurants) and architecture with a strong oriental influence; nonetheless, there are many diverse shops owned primarily by Chinese people (or by their Peruvian descendants). This place is one of the tourist attractions in Lima, Peru.
Many China-related cultural events, such as dance parades, are conducted here, and you can even purchase a local newspaper printed entirely in Chinese. This is a daylight adventure. The China Town area is mostly safe, but be cautious when venturing out into the neighboring streets. In any case, it's advisable to avoid going there after 6 p.m.
---
5. Magic Water Circuit
This place has become a very popular and unbeatable attraction, for both locals and foreigners, in just a few years: located not far from Lima Downtown, in the traditional Parque de la Reserva, this complex of 13 fountains offers two very different sights, depending on whether you visit them during the day or at night when color lights and laser beams are turned on: this is currently a must-see tourist attractions in Lima, Peru.
It actually consists of two parks separated by Petit Thouars Avenue but joined by a tunnel that houses some artistically large photographs of the fountains. It's a great spot to take your family, and you can catch some creative performances on weekends.
Keep a watch out for the larger fountains because you can be soaked by accident if you aren't paying attention. Despite the fact that there are sandwich stands in this park, you will most likely have to wait in line to purchase something, so bring some snacks and/or beverages in your backpack or purse. This place is one of the best sightseeing in Lima.
---
6. Miraflores Central Park
The Parque Central de Miraflores (also known as Kennedy Park in Miraflores) is almost the hub of Miraflores, with everything taking place around or near it. Not only does it have an amphitheater where a variety of shows are held on a daily basis, but it also has food and dessert stalls, as well as several fast-food restaurants, souvenir vendors, street artists, and even a children's playground.
It is also a popular spot for families during the day and for friends (and couples) to take a stroll. However, there are 50 nice stray cats who live and roam freely and safely here since their neighbors feed and protect them. Certain sports have hidden surveillance cameras, and free wi-fi is provided.
Additional information: there are facilities under the park, and Café Haiti, Calle de las Pizzas, and Café de la Paz are all only a block away. One of the must-see tourist attractions in Lima, Peru, and one of the unique things to do in Lima.
---
7. Museo Larco
For visitors interested in pre-Columbian art, the Museo Larco is a must-see. Rafael Larco Herrera founded the private museum, which is housed in an 18th-century structure that was constructed on top of a seventh-century pyramid.
The museum's collections are organized chronologically and span 5,000 years of Peruvian history. Thousands of items make up the museum's collection. It is well known for its collection of pre-Columbian erotic ceramics, which depicts humans engaging in sex acts with gods and the dead as well as each other.
The Gold and Silver Gallery is equally stunning, with items such as burial masks and jewelry worn by priests and emperors. This place is one of the best sightseeing in Lima.
---
8. Huaca Pucllana
Huaca Pucllana, regarded one of Lima's most prominent structures, is a must-see for travelers interested in ancient monuments. This adobe pyramid, located in Miraflores, was built around 500, but was afterwards covered over and not discovered until the mid-twentieth century.
Archaeologists believe Huaca Pucllana was the ceremonial and administrative hub for the early Lima culture, based on their finds. Many items have been discovered here to support this notion, including textiles, pottery, and animal remains.
Human sacrifices were once performed here. The pyramid is part of a larger complex that also includes a modest museum with antiquities
---
9. Costa Verde Beaches
Verde Lima, as a coastal city, has a number of conveniently accessible beaches that provide visitors with a comprehensive experience: sea, beaches, restaurants for different budgets, and the opportunity to participate in nautical activities at costa Verde Peru.
Due to the pleasant, moderate Lima weather, these beaches are lined up and connected by a road that runs through various districts: San Miguel, San Isidro, Miraflores, and Barranco. They are open to visitors throughout the year.
Redondo, Agua Dulce, and La Herradura are three of the most popular beaches, which can get very congested during the summer. Surfers visit the area throughout the year. Costa Verde Peru Beaches are one of the best sightseeing in Lima.
You could walk from the Miraflores cliffs, but it's definitely better to take a taxi. It's also a good idea to make sure that this cab (or any other) will pick you up on time.
---
10. Plaza Bolívar
This is a quiet spot away from the bustling downtown, but it is still in the heart of the city; however, it is surrounded by enormous, commercial shopping areas. As a result, this is akin to a city oasis. It is flanked by Republican-era mansions and has a magnificent old stone flooring.
The Museo Nacional de Antropologia, Arqueologia e Historia (history museum) is one of these mansions today, and it is a must-see for all tourists. The center fountain in the square was built in the mid-1700s. There are also some excellent eateries in the vicinity, so ask your tour for some recommendations for lunch.
Remember to pay a visit to the National Museum of Anthropology, Archeology, and History, which is located in this square. You could also wish to do some urban exploration in the surrounding neighborhoods. One of the must-see tourist attractions in Lima, Peru, and one of the unique things to do in Lima.
---
You Might Also Like
---
FAQ About Best Sightseeing In Lima, Peru
What is best sightseeing in Lima?
Is Lima Peru worth visiting?
Lima is worth seeing
It offers fantastic restaurants, the lovely Miraflores neighborhood (where you may drink while overlooking beaches littered with small rocks that form eye-catching patterns each time the tide washes out), and outstanding museums. It is home to more than a quarter of Peru's nearly 30 million people.
How far is Machu Picchu from Lima?
312.5 miles
Machu Picchu is approximately 312.5 miles from Lima, Peru's capital. You have the following choices for getting from Lima to Machu Picchu: Take the Peru Hop bus from Lima to Cusco. It is advised to take the route through Huacachina and Arequipa.
What is the best month to travel to Peru?
The dry season, which runs from May to October, is the greatest time to visit Peru, especially if you want to embark on a hike. It's a beautiful time of year, with sunny days and bright blue skies, but because it's peak season, early booking is essential.
Why is Lima so famous?
Lima is known as South America's culinary capital, featuring world-class eateries and authentic local jewels that offer a heady blend of flavors, in addition to its awe-inspiring historical monuments.
---
Tell us in the comments about one of your favorite Tourist Attractions in Lima, Peru!
Also, don't forget to book your personalized holiday package with Tripononline. Let us make your vacation a romantic as well as a dreamy getaway.