Dubai is famed for its gleaming skyscrapers and parched desert dunes, but in recent years it has gained in popularity as a beach destination. The city has a lengthy coastline with white sand and crystal blue waters.
The government worked hard to make enjoyable and safe beaches, which now include amenities such as changing rooms, beach loungers, and cabanas, as well as restaurants and hotels lining the shore.
10 Best Beaches In Dubai Where you can Swim, Surf & Tan.
1. Jumeirah Beach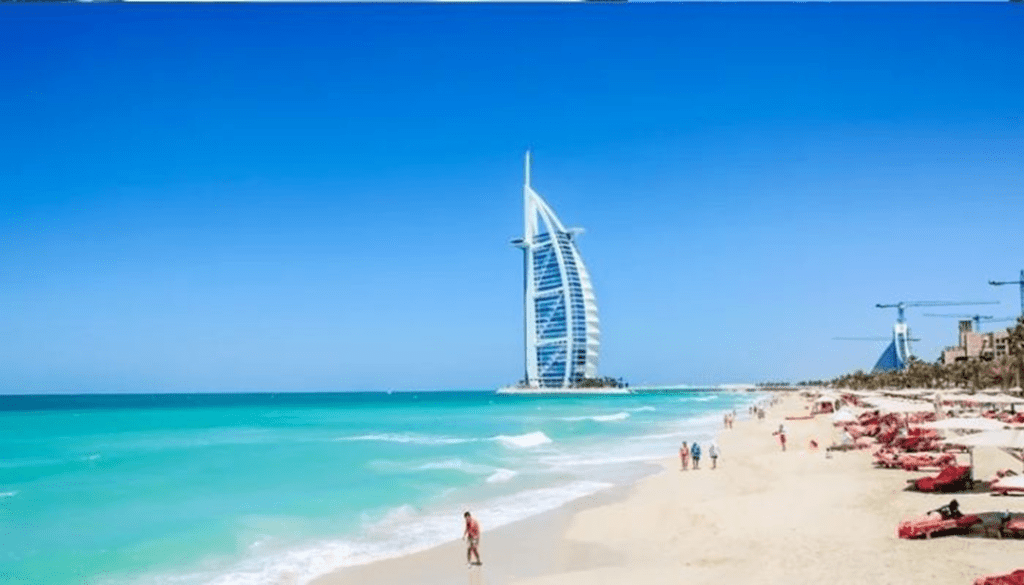 The Jumeirah Public Beach in Dubai is one of the city's oldest public beaches and a great site to start your beach-hopping adventure!
The beach is popular with people who come with their families, which explains why there are so many youngsters playing there. The beach is approximately 3 kilometers long and is divided into two sunbathing sections and one water sports area.
The Jumeirah Public Beach is one of Dubai's most well-known beaches, thanks to its clean water and well-kept sand. Among one of the Best Beaches In Dubai.
What's special: Wide beach, ideal for families with kids
2. Kite Beach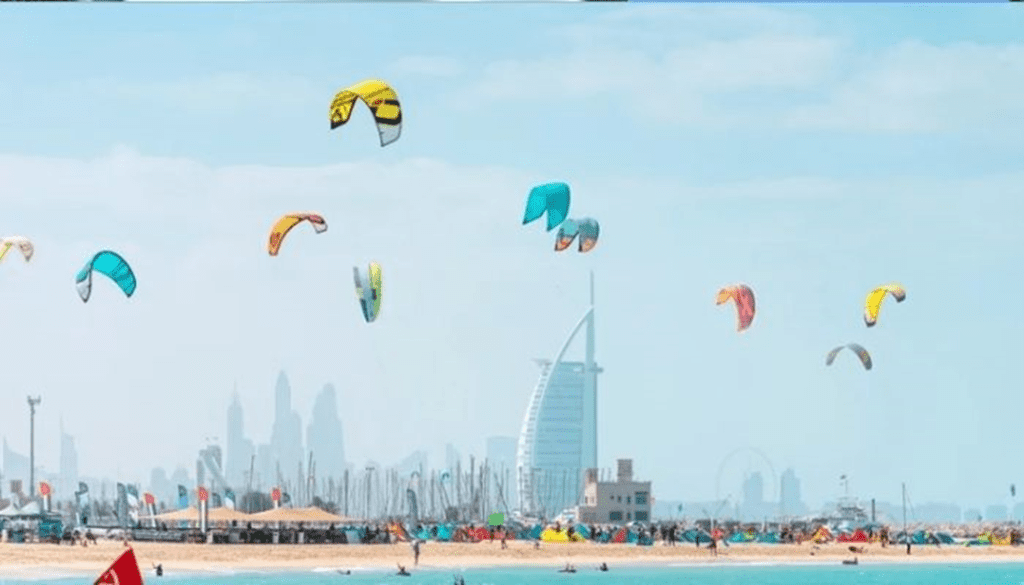 Yes, the beach's name comes from all of the kitesurfing parachutes! The Kite Beach is one of Dubai's top beaches for adventurers and water sports lovers.
Kitesurfing, wakeboarding, and paddleboarding are just a few of the water sports available at the beach. It offers a bustling beach ambiance, with food carts serving delicious finger foods.
A 14-kilometer running path runs along the beach, but the greatest part is the spectacular view of the Burj Al Arab in the vicinity. One of the Best Beaches In Dubai for water adventure activities.
What's special: Water activities
3. Al Mamzar Beach Park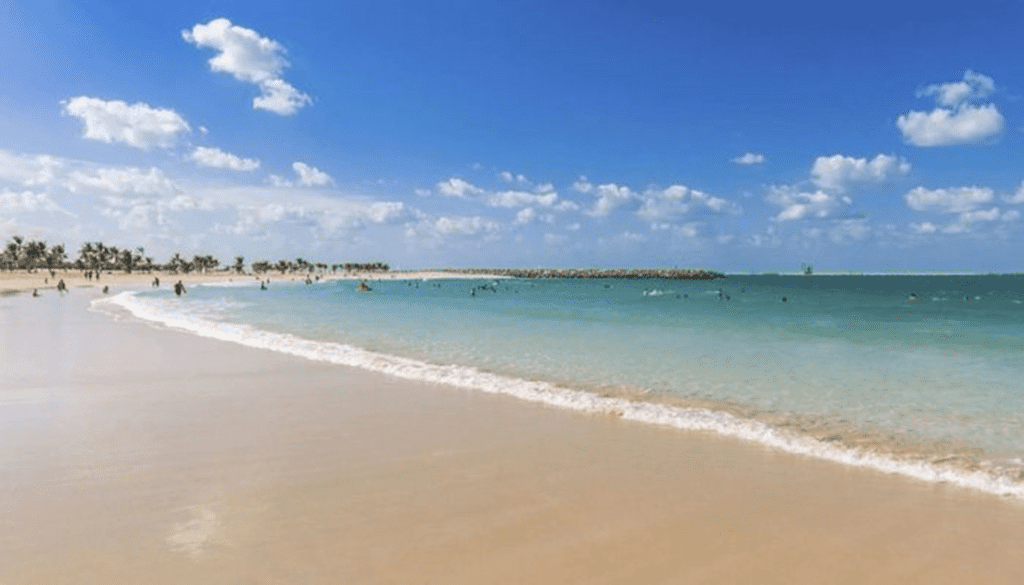 The immaculate white sand makes you forget you're not on a tropical island, but rather at Al Mamzar Beach Park, one of Dubai's most popular public beaches.
The park's five beach fronts are lined with over 1,000 palm palms, which help to break up the monotony of the metropolitan skyline.
Barbecue stations, picnic areas, and other beach infrastructure are available for a perfect beach outing. On Mondays and Wednesdays, the beach is only open to females. Among one of the Best Beaches In Dubai.What's special: Greenery and landscaped areas.
4. Ghantoot Beach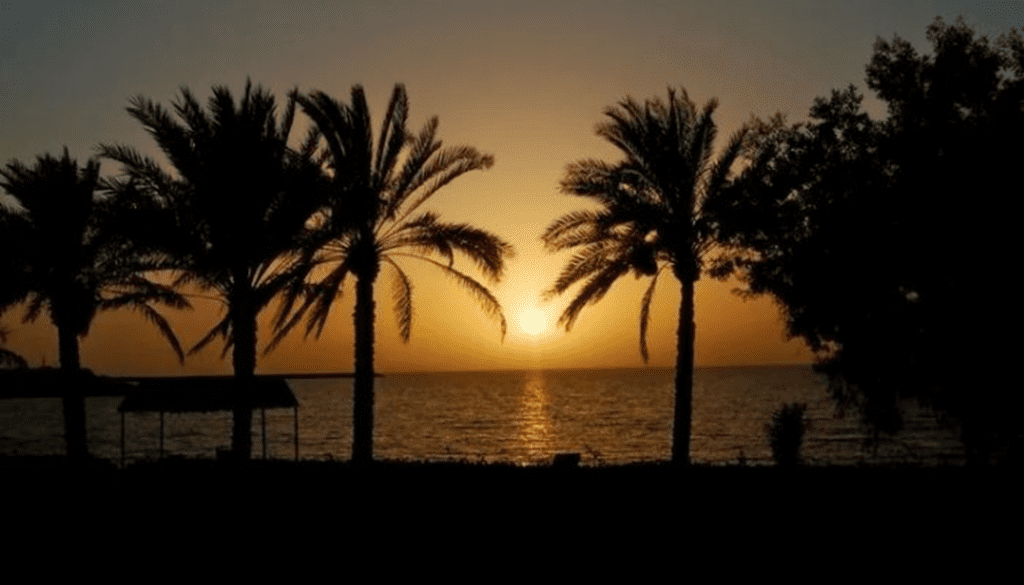 A 7-kilometer stretch of untouched beach with private access is the stuff of fantasies! This is something you can experience at Ghantoot Beach, one of Dubai's best private beaches.
The Golden Tulip Al Jazira Hotel manages the beach, which offers a variety of water sports such as wakeboarding, kite surfing, and jet skiing.
The beach also provides spectacular views of the superyachts moored at the marina's berths. You may enjoy a tranquil atmosphere and seclusion that is typically lacking on Dubai's public beaches.
What's special: Serene environment with private access
5. Mercato Beach
The Mercato Beach in Dubai is a well-kept secret that only locals are aware of! There aren't many people at this little beach, which makes it incredibly tranquil and excellent for relaxing.
A large jogging track runs parallel to the shore and is ideal for a short morning run. If you want to unwind with a book, there is a library on the beach with benches and bean bags for visitors to recline on! You may also have a bite to eat or buy snacks to take back to the beach at the Mercato Mall, which is located directly across from the beach.
What's special: Peaceful surrounding with access to Mercato Mall
6. The Beach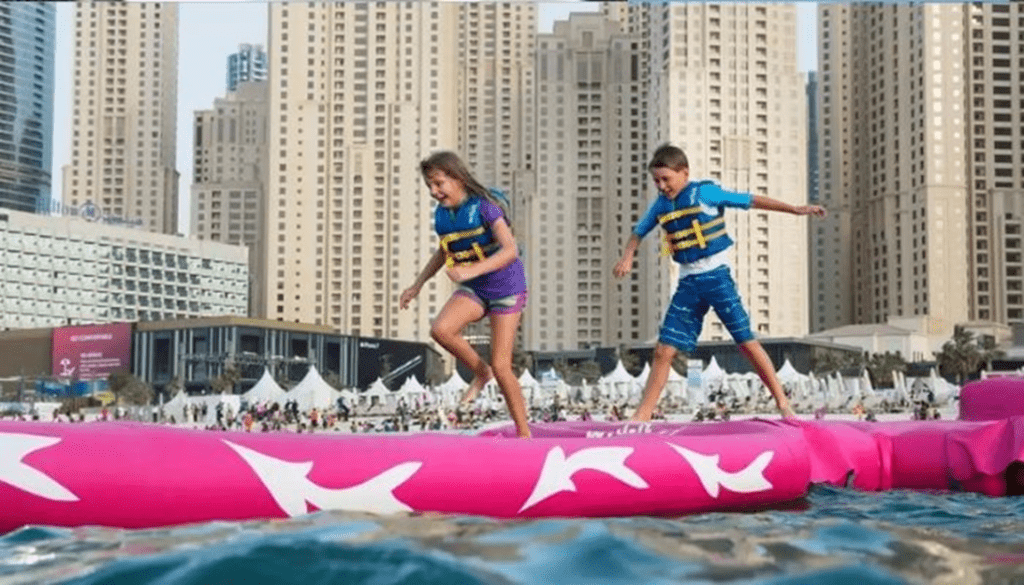 You want to surf, your partner wants to shop, and your child wants to play; all of these activities are available at The Beach! The Beach is the beachfront complex in the Jumeirah Beach Residences or JBR as it is known locally.
There is all one needs to club work and play at the scorching Dubai Beach, including retail centers, restaurants, play zones, and cabanas. You can end the day with a brief swim thanks to the changing rooms and shower facilities!
What's special: Entertainment and seaside activities
7. Burj Al Arab Beach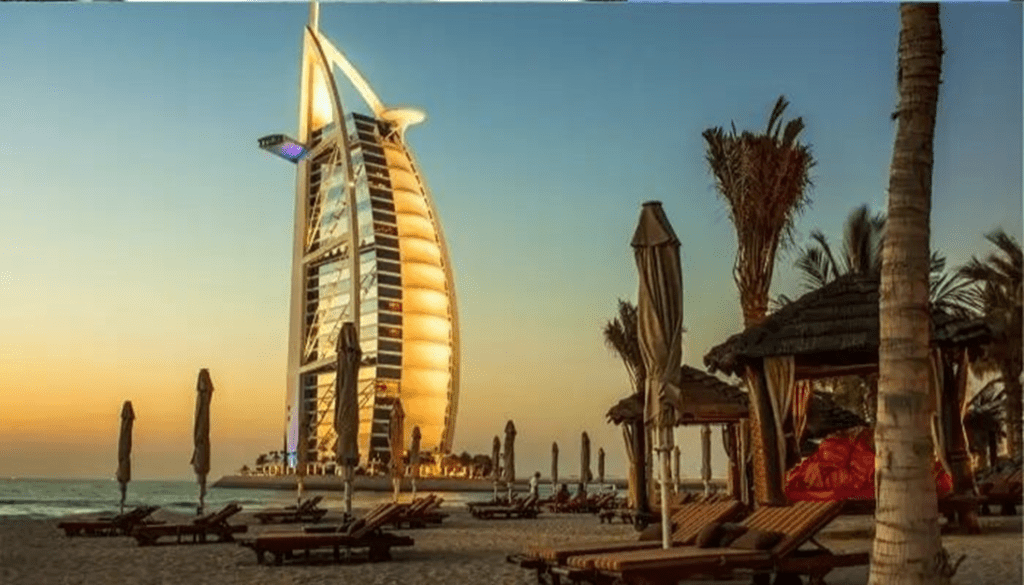 Burj Al Arab is one of Dubai's most recognizable structures, and its sail-shaped form has become synonymous with the city.
It's understandable that everyone wants a picture with the Burj Al Arab, and the greatest place to do so is on its beach.
The public beach is located near the Burj Al Arab and is one of the greatest beaches in Dubai for viewing the building and the city skyline.
The beach is lovely, and if you're looking for a more lively vibe, head to Kite Beach, which is close to the coast.
What's special: Scenic views of Burj Al Arab
8. La Mer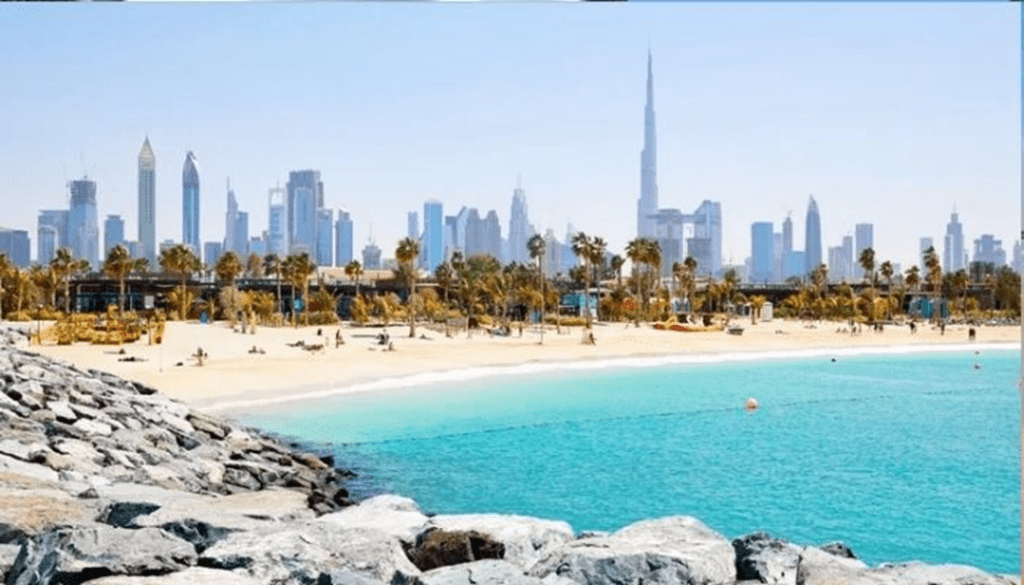 The La Mer is a newly constructed trendy and creative beach location that offers relief from the city's incessant hustle.
It's arguably the greatest place to photograph the beach in Dubai because it has colorful changing shacks and graffiti walls painted by local artists.
La Mer has an international beach ambiance, filled with cafes, shopping areas, and entertainment zones. There's also a water park and a pretty fantastic inflatable playground named "Hawa Hawa."
One of the Best Beaches In Dubai for Kids.
What's special: Sustainable and colorful architecture
9. Sheraton Jumeirah Beach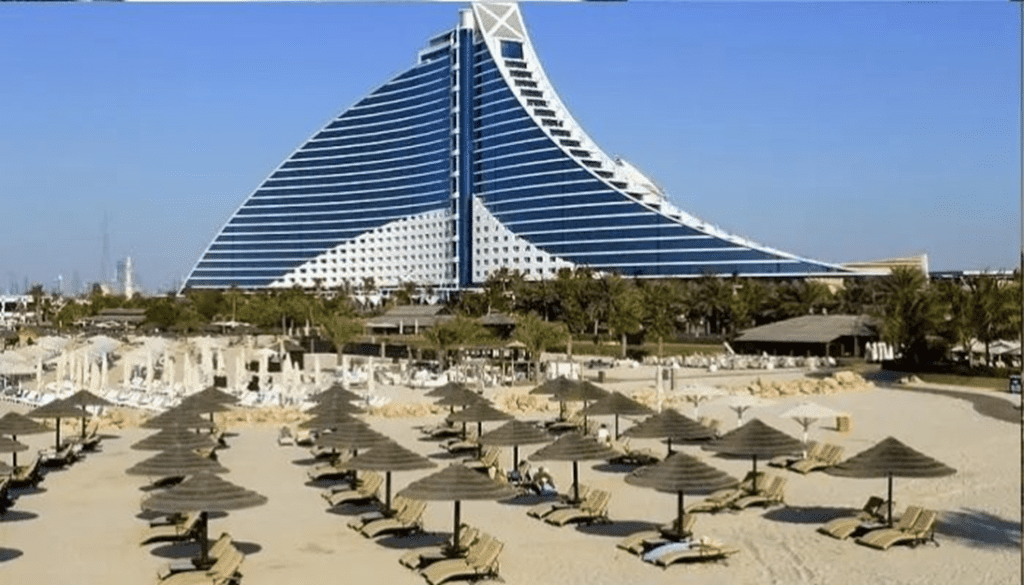 The Sheraton Jumeirah Beach Resort features one of Dubai's nicest beaches, comfortably ranking among the city's best private beaches.
While guests have free access to the beach, non-guests can purchase a day permit to visit this immaculate beach, which has become a hotspot for water activities such as parasailing, wakeboarding, fly fishing, and banana rides.
If not, you can rest in one of the magnificent cabanas and then go inside for a nice lunch at the resort once you've finished sunbathing.
What's special: Private luxury beach with water sports
10. Umm Suqeim Beach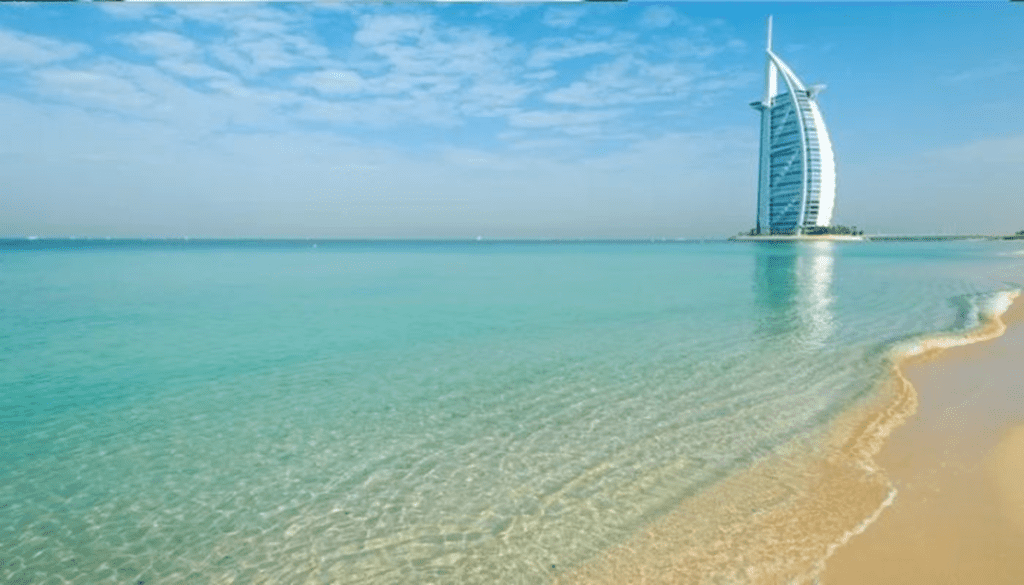 The Umm Suqeim Beach is renowned as the Sunset Beach because of the beautiful sunset views. It's one of the great Dubai beaches at night, and there's even a floodlit portion for night swimming.
The beach is bordered on one side by the Umm Suqeim Park, which offers spectacular views of the Burj Al Arab in the distance.
The beach is somewhat quiet because there aren't many beachfront restaurants or food alternatives. The natural beauty of the beach balances.
What's special: Sunset views of the sea
On your next trip to Dubai, make sure to stop by these beaches for some great pleasure and relaxation!
FAQ's about BEST BEACHES IN DUBAI
Can you swim in the beaches in Dubai?
The answer is certainly yes, and we've compiled a list of every beach in Dubai where swimming is safe, as well as a comprehensive reference on sea swimming safety in Dubai, below. Dubai's beaches boast crystal clean waters and provide an infinite swimming experience.
Are the beaches in Dubai clean?
Beaches all throughout the city have been awarded Blue Flags for their excellent water quality and litter-free expanses of sand. Public beaches along the Jumeirah and the renowned Kite Beach in Umm Suqeim have recently been awarded Blue Flags.
Is there jellyfish in Dubai?
In UAE seas, three varieties of jellyfish can be found: blue blubber in April and May, upside-down and nettle jellyfish in September and October.
Can you swim in La Mer?
Despite the fact that the La Mer Beach is open from 10:00 a.m. to 10:00 p.m. from Sunday to Wednesday and from 10:00 a.m. to 12:00 a.m. from Thursday to Saturday, swimming is only permitted until sunset.
Does the Royal Atlantis have a beach?
Atlantis visitors have access to three attractive beaches, each with its own allure and charm. Guests will enjoy white sand and a stunning perspective of azure sea on Cove Beach, Paradise Lagoon, or Atlantis Beach, where they can rest.