Best Indian Restaurants In Dubai: With just a glimpse of its shimmering skyline, Dubai, the Emirati Gem, radiates magnificence. With all of Dubai's modernism, there will be occasions when you want to go to a classic Indian restaurant. However, your search comes to an end here.
This blog will provide you with information on the greatest Indian restaurant in Dubai, from its location to our dining recommendations. There are fine dining and mid-range options on the list. You can use the information below to plan your trip by learning about the top 5 star Indian restaurants and Pocket-Friendly Indian restaurants in Dubai.
5 star Indian restaurants in Dubai
1. Indego by Vineet – Creation of a celeb chef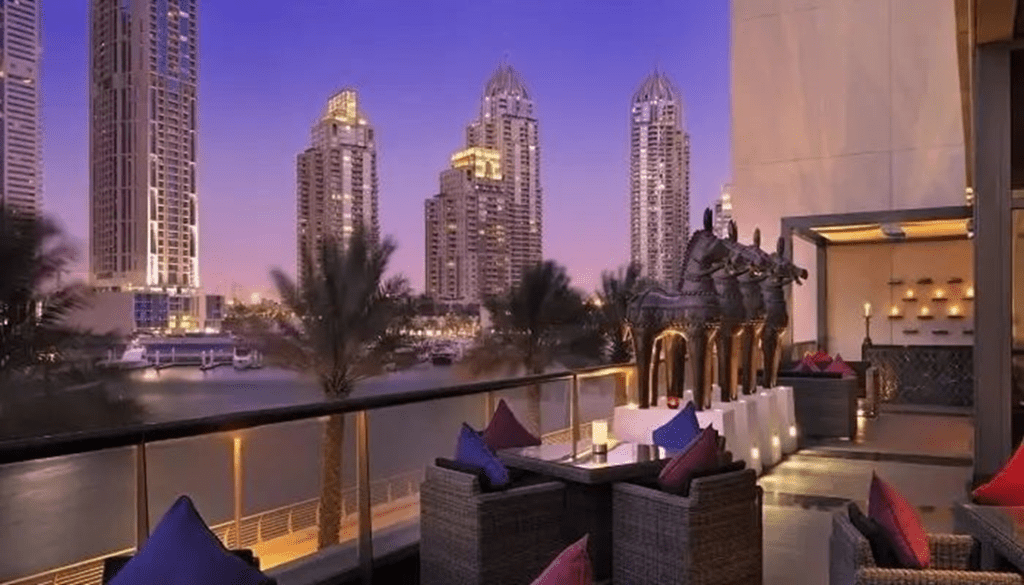 Location: Grosvenor House Dubai، Al Emreef Street, Dubai Marina
Head to Indego by Vineet, one of Dubai's most well-known Indian restaurants, for a beautiful dining scene.
Because the head chef, Vineet Bhatia, is a Michelin-starred chef, you can expect delectable food created with fresh ingredients and a variety of spices. Each dish's presentation will make you want to Instagram it right away.
The Nataraja statue, modern furniture, and other Indian elements such as paintings of Indian gods, framed juttis on the walls, and Genda Phool enhance the interior of this fine dining restaurant.
What's special: Kabab Platter, Rogan Josh lamb, Butter Chicken, and Biryani
Tripadvisor rating: 4.5/5
2. Rang Mahal – A colorful culinary affair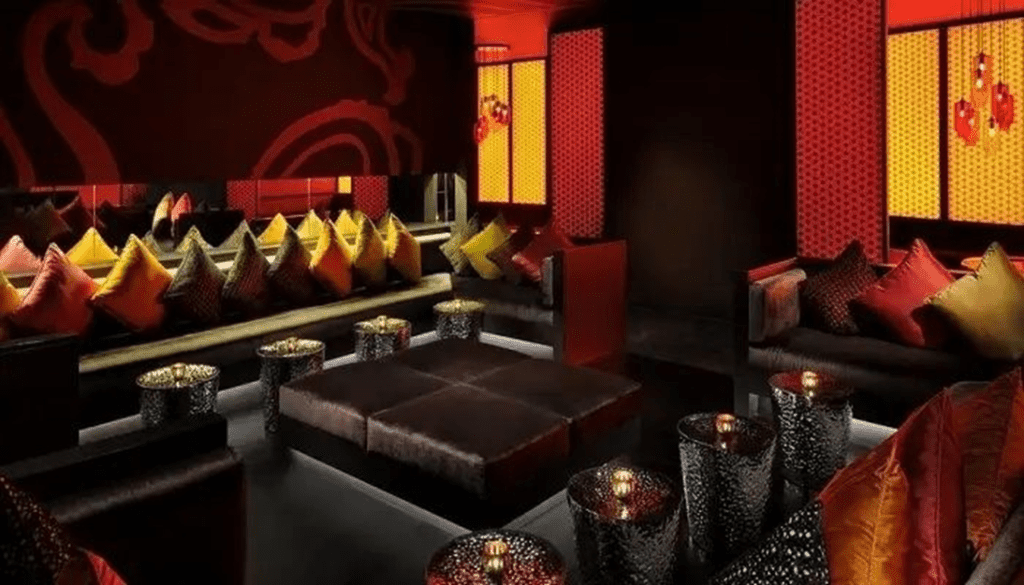 Location: Sheikh Zayed Rd
Rang Mahal, as the name suggests, is a vibrant yet elegant restaurant on the 4th floor of the JW Marriott Marquis Hotel, one of Dubai's best hotels for couples.
This restaurant's founder has received numerous honors, is a worldwide celebrity chef, the author of popular cookbooks, and has a Michelin star.
He has truly put his expertise to good use in creating a memorable dining experience in the Emirati jewel, Rang Mahal, making it one of the top Indian restaurants in Dubai.
What's special: Soft shell crab, Keema Toast, Fish Fry, Crump Chops and Kori Kempu
Tripadvisor rating: 4.5/5
3. Gharana – To make you feel home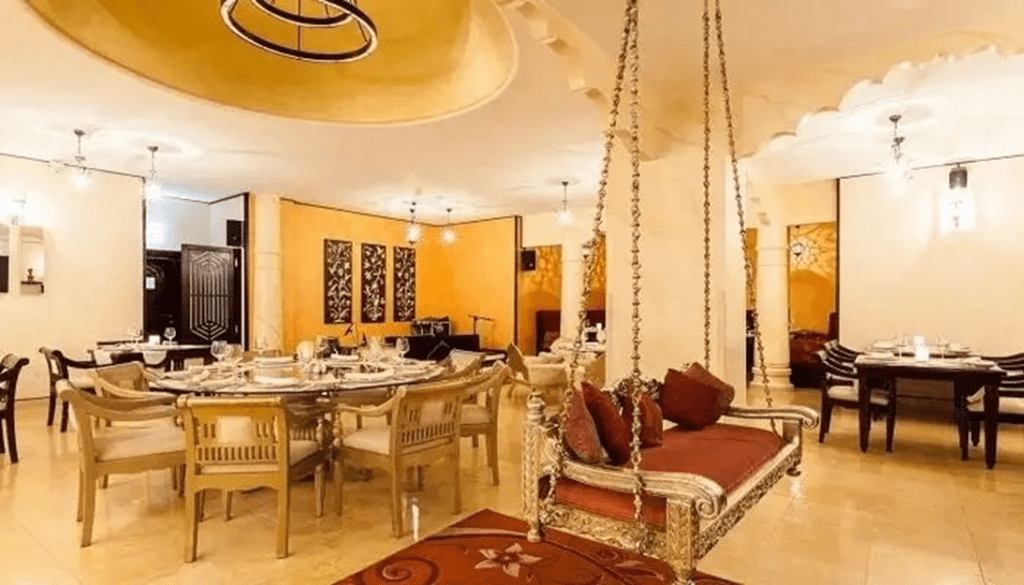 Location: Sheikh Zayed Road, Al Barsha 1
Gharana, located in the luxury hotel Holiday Inn, is one of Dubai's top 10 Indian restaurants. This isn't just a restaurant for wonderful food;
it's a culinary experience complete with Indian classical/Bollywood music, regal heritage decor, and hospitality that will make you believe you're still in India.
What's special: Murgh Ghazala, Litchi Rabdi, Nihari Al Subha, Chicken Biryani, and Fish.
Tripadvisor rating: 4.5/5
Website | Reviews
4. Naya – Pleasing with its delicious food and regal decor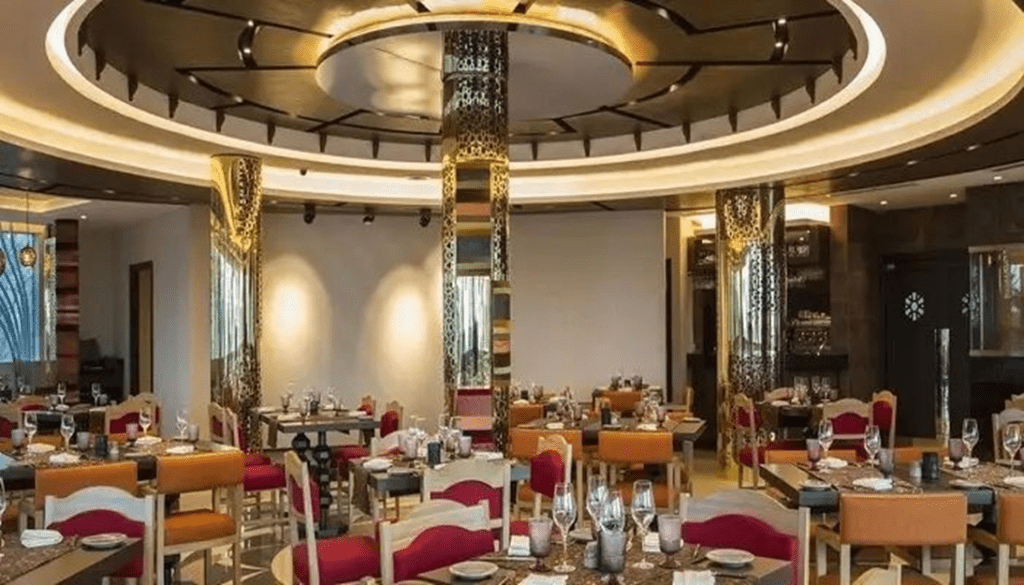 Location: Jumeirah Beach Hotel, Jumeirah Road, Umm Suqeim 3
The Jumeirah Beach Hotel is proud of its Naya Restaurant, which serves a mix of traditional and contemporary Indian cuisine in a regal setting.
The view of the Burj Al Arab adds to the restaurant's culinary appeal, making it one of Dubai's greatest Indian restaurants.
If you're feeling optimistic after a filling and soulful eating experience, come to the Uptown Bar on the 24th floor for some beverages and some of the city's best views.
What's special: Lamb Rogan Josh, Amritsari Fish, Dahi puri chaat, and Naya dessert platterTripadvisor rating: 4.5/5
Website | Reviews
5. Antique Bazaar – Offering a royal experience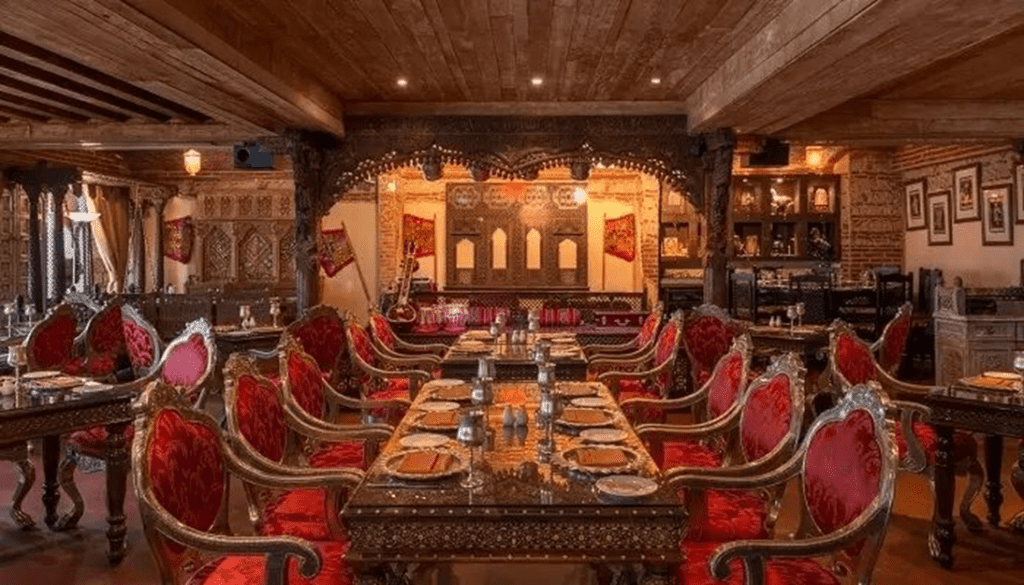 Location: Four Points by Sheraton Bur Dubai، Khalid Bin Al Waleed Rd, Bur Dubai
To begin, you might want to take a moment or two to admire the appearance and feel of this gastronomic heaven as soon as you walk in.
Antique Bazaar's decor, which lives up to its name, will transport you to the court of a great maharaja. Speaking of cuisine, the Diwan Handi Gosht, Gosht Angar, and Sheekh Subz Bahar are all influenced by the shahi kitchen.
Your taste buds will be titillated with each bite. This is one of Bur Dubai's most elegant Indian restaurants.
What's special: Kabuli Chaat, Machli Amritsari, Sheekh Subz Bahar, and Sheekh Subz Bahar, Gosht Angar
Tripadvisor rating: 4/5
Website | Reviews
6. Armani Amal– Designed by Armani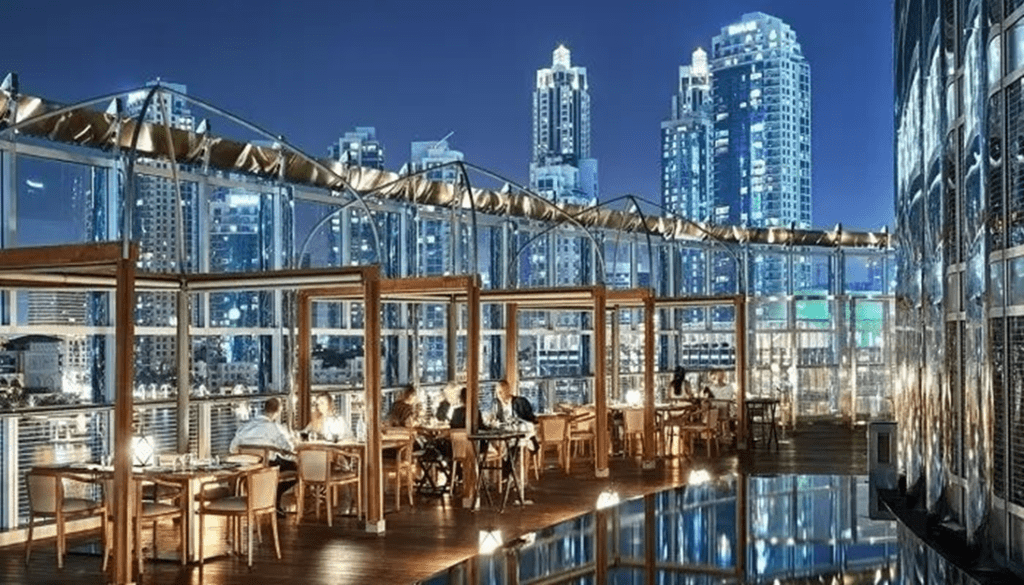 Location: Armani Hotel Dubai, 3rd Floor, Burj Khalifa, Downtown Dubai
This restaurant delivers authentic Indian tastes in magnificent Armani-designed décor. The restaurants' glass walls allow you to gaze out onto the city's spectacular skyline, which is adorned with multicolored fountains, as well as the Burj Khalifa itself.
This is one of Dubai's most well-known Indian restaurants, offering not just delectable Indian cuisine but also unforgettable experiences. The sound of Indian classical music sets the tone, and Stagg's kind and prompt service complete the picture.
What's special: Biryani, Goan fish curry, and Chilli Cheese and Basil naan
Tripadvisor rating: 4.5/5
Website | Reviews
Pocket-Friendly Indian restaurants in Dubai
7. Raju Omlet Restaurant – For an inevitable love for eggs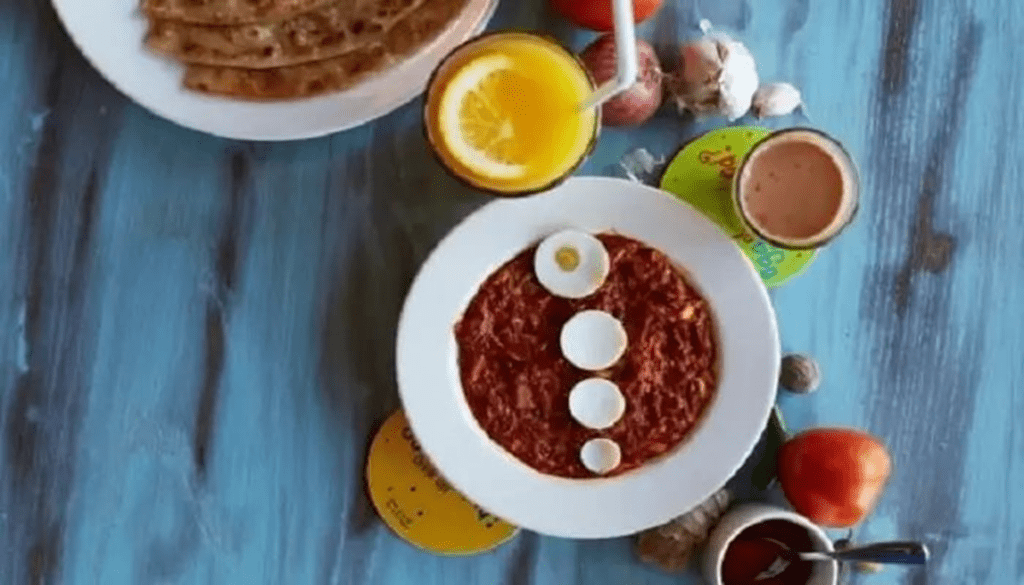 Location: Mubarak Building, Near Park Regis Hotel, Al Karama (multiple locations)
If you have an insatiable appetite for eggs, Raju Omelet Restaurant is a must-visit destination. One in Sharjah, one in Al Karama, and one in Al Quoz are the three branches.
The unique design, which includes cartoon eggs and portraits of Bollywood actors like Amitabh Bachchan, contributes to its inclusion in this list of the top 10 Indian restaurants in Dubai.
What's special: Cutting chai, Egg rolls, Masala half fry, and Crush omelet
Tripadvisor rating: 4/5
Website | Reviews
8. Aryaas – Preparing the giant dosas for you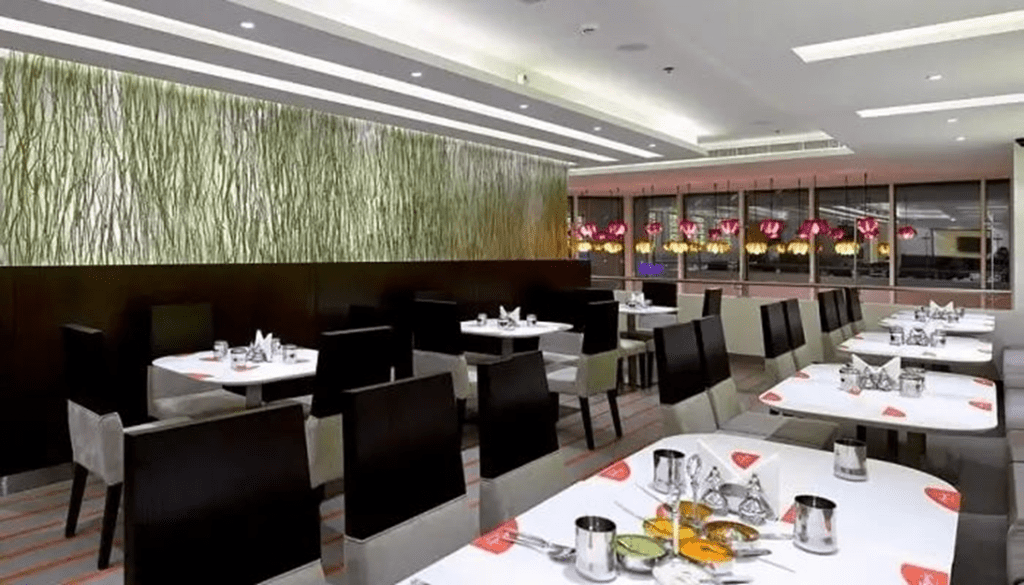 Location: Shop #2, Ground Floor, The Business Center, Khalid Bin Al Waleed Road, Bur Dubai
Aryaas is one of the top Indian vegetarian restaurants in Dubai, specialized in South Indian cuisine and serving Indian food enthusiasts with a twist of Western flair.
In fact, the restaurant is known for introducing the five-foot dosa, which is perfect for individuals who can't get enough delectable food. The setting is elegant, and the stainless steel utensils add to the desi feel.
What's special: South Indian Platter, Idli, and Dosa,
Tripadvisor rating: 4/5
Reviews
9. Rangoli Restaurant – For a delicious traditional taste of Gujarat and Rajasthan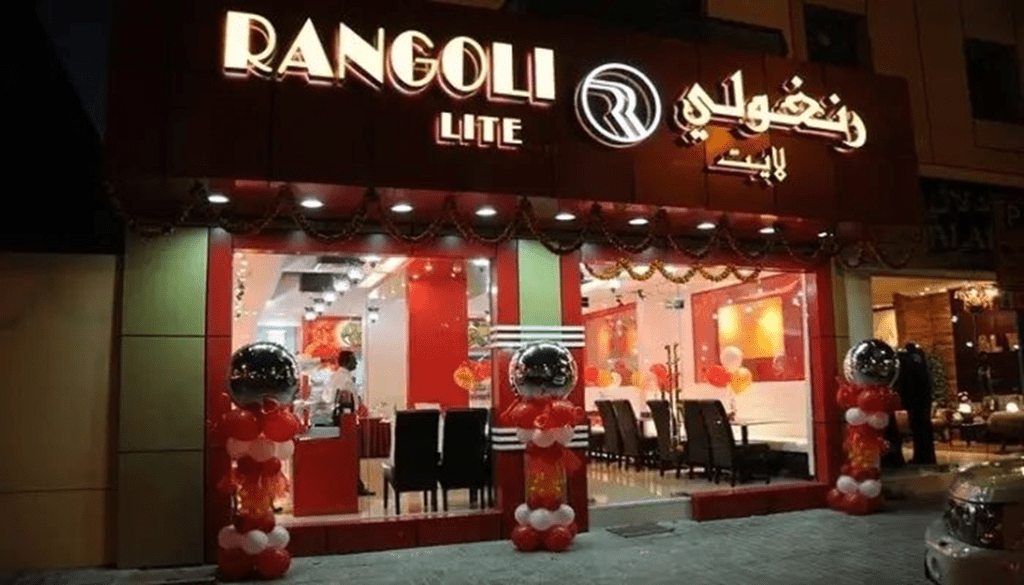 Location: Meena Bazar, Cocmos Lane, Bur Dubai, Opp ITL Building
When you're craving home-cooked Indian food, Rangoli Restaurant is the place to go. This is one of the rare places where you may try authentic Gujarati Indian cuisine as well as other Indian dishes.
The personnel is polite, and the atmosphere is modest but excellent.
What's special: Gujarati Thali, and Chaat
Tripadvisor rating: 4/5
Website | Reviews
10. Bombay Chowpatty – Spread across almost everywhere in Dubai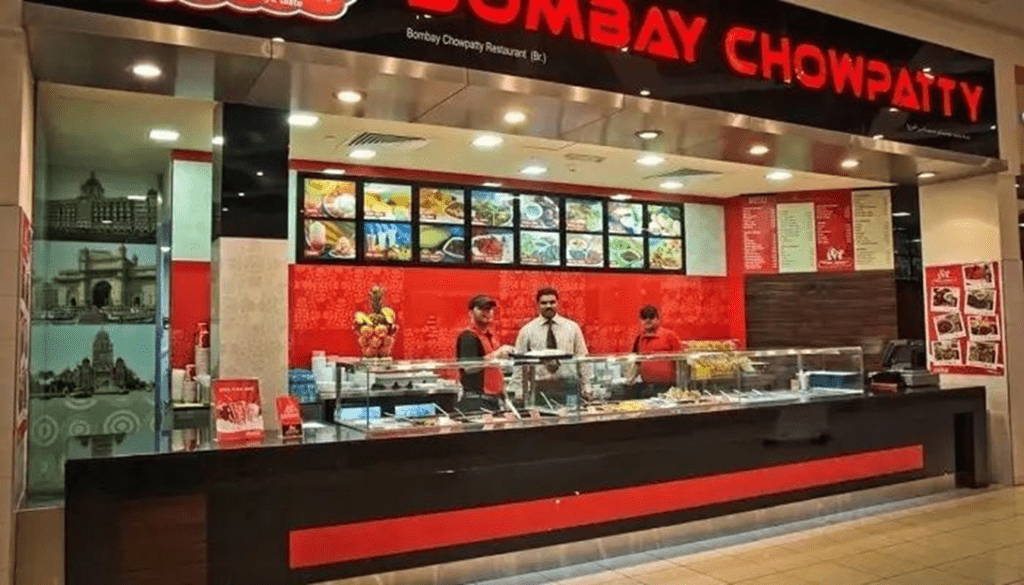 Location: Karama, Dubai opp. Burjuman Centre (Multiple locations)
As we approach the end of this list of Indian restaurants in Dubai, Bombay Chowpatty is the last, but not least, in terms of food. Starting at the airport, the restaurant has 18 (and growing) locations throughout the city.
This one is highlighted because of its convenience, popularity, and, of course, gastronomic perfection.
What's special: Bhelpuri, Chicken curry, Masala chai, and Dosa
Tripadvisor rating: 4/5
Website | Reviews
FAQ's About Best Indian Restaurants in Dubai
Is Indian food available in Dubai?
Indian Restaurants Dubai
There is no shortage of Indian restaurants in Dubai, whether you are a vegetarian seeking comfort cuisine or a non-vegetarian enjoying meat-eating delights. Dubai's streets offer a mouthwatering gastronomic experience, with everything from street vendors to Michelin-star restaurants.
How much does Indian food cost in Dubai?
If you're looking for a more elegant Indian restaurant in Dubai, this group of restaurants offers meals for two for more than AED 200 and less than AED 400.
What is the most famous food in the UAE?
Shawarma is the most popular dish in the UAE, and it is enjoyed by all. You can get shawarma at any time of day, whether it's in malls, street markets, or restaurants. It has recently gained popularity and is a much-loved food in Asian countries.
What is the staple food in Dubai?
The Emirati cuisine's basic dishes are meat, seafood, and rice. Meats such as lamb and mutton are preferred above goat, beef, and camel meat. Dates are generally consumed with meals.
How high is Dinner in the Sky in Dubai?
50 meters
A table suspended by a crane 50 meters high in the sky of Dubai as you enjoy spectacular sights and luxury meals can be found at SkyDive Dubai.